The summer season and the holidays offer the perfect opportunity to play outdoors with your kids. Ever wonder about the latest fun toys for children, offering you the chance to spend some quality time together? Below is an overview of the latest Peg Perego electric toys, designed to entertain children and parents alike! Completely manufactured and assembled in Italy, for over 60 years Peg Perego toys have guaranteed safety, quality and hours of fun for your children.
Off-road vehicles, motorcycles, quads, tractors … your children will be spoiled for choice, no matter what their age. So here we go!
Let's start off with a powerful electric off-road vehicle for children: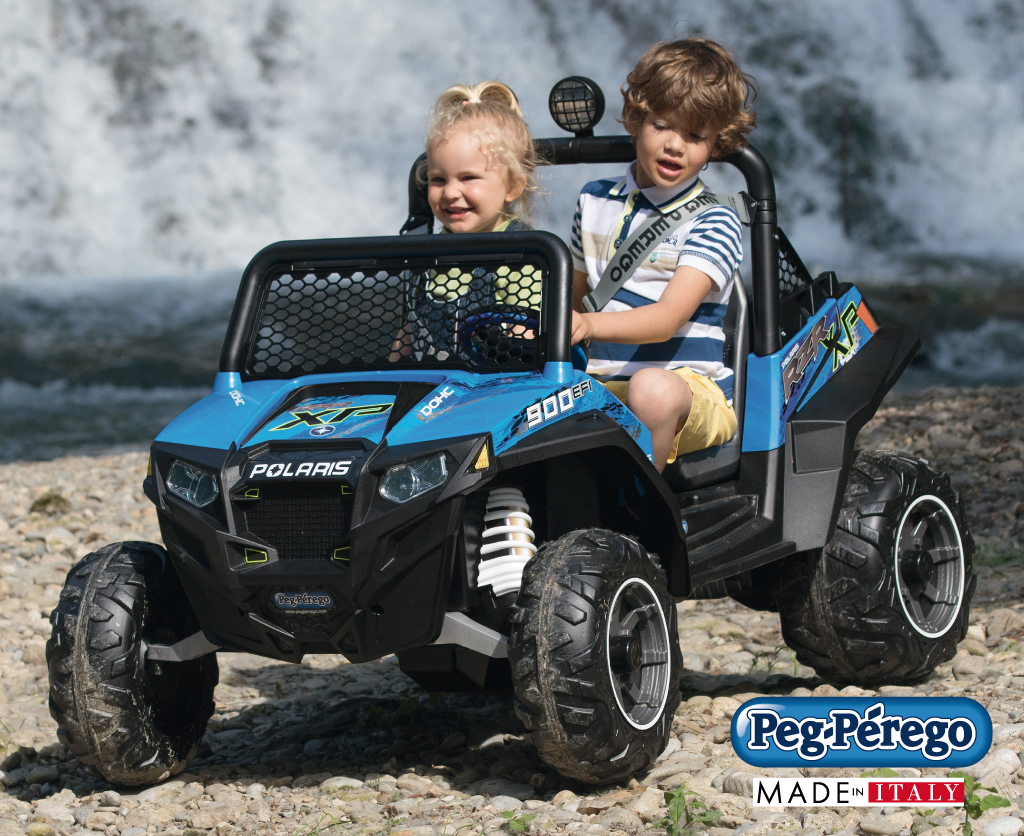 the beloved and newly revamped Polaris Ranger continues to amaze and entertain children aged 3 and over from all over the world. A 12-volt rechargeable battery powers two 230W motors, enabling children to tackle climbs of up to 17% and the roughest terrain, such as potholes, bumps and tree roots.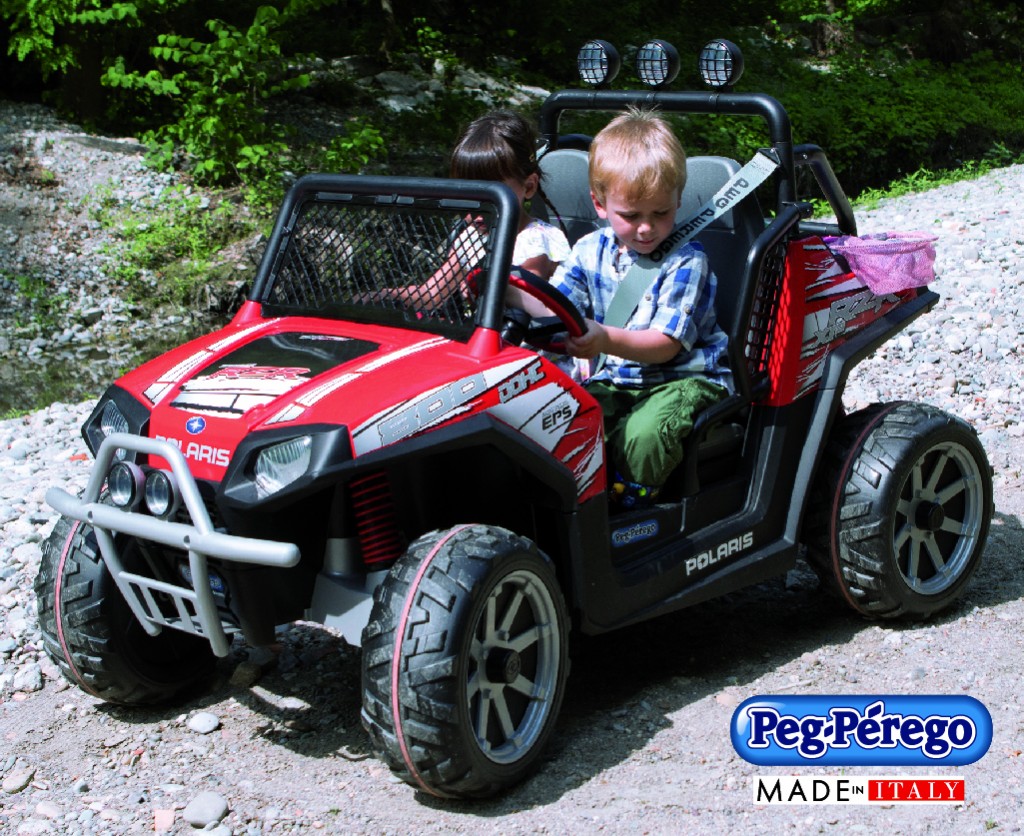 Adventurous children aged 6 and over will be enchanted by the powerful and unstoppable Polaris Ranger RZR! Vibrant and dynamic, this off-road vehicle tackles the steepest slopes and the most treacherous terrains with the greatest of ease, also handling climbs of up to 17%.
Powered by a 24-volt rechargeable battery, it comes equipped with a real working FM radio, MP3 player connection and a date and time function.
But what about two-wheeler enthusiasts?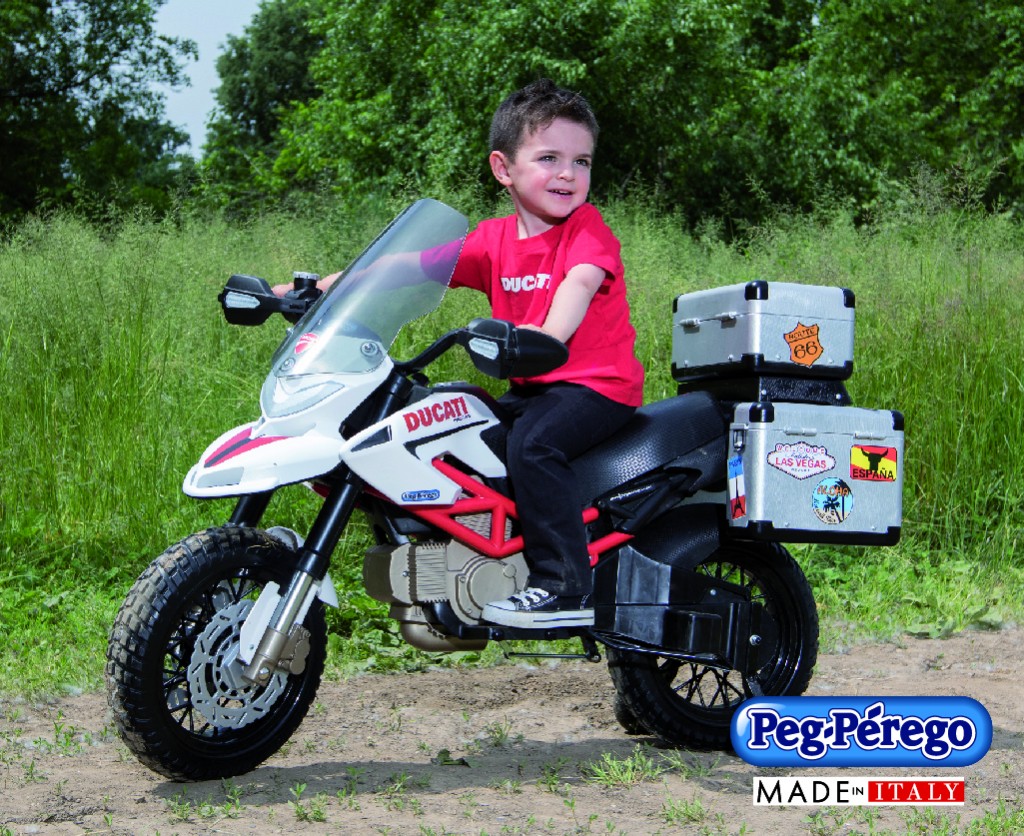 For them, there's the super adventurous Ducati Hypercross. This spectacular 12-Volt electric off-road motorcycle for children aged 3 and over hurtles at nearly 8 km/h and offers unforgettable adventures, even on uneven ground. Its countless features include a horn, light-reflecting headlights, a large tinted windshield, three cases as standard, and much more…
Lovers of the off-road quad also have their share!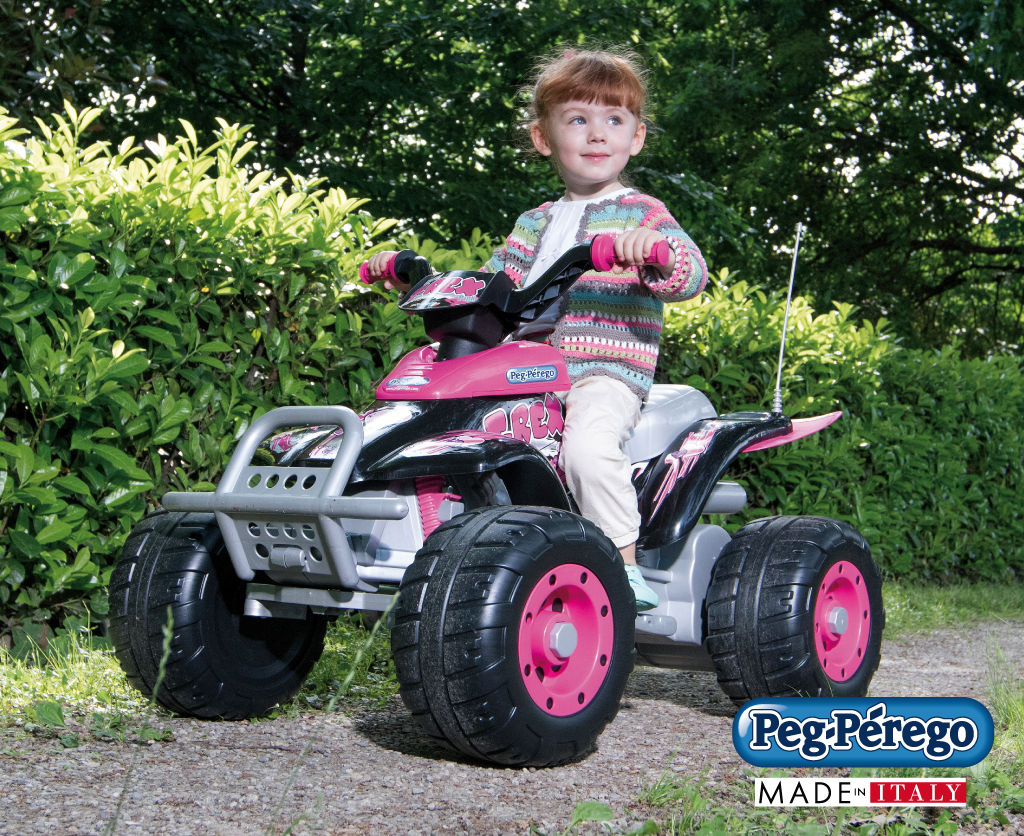 All those plucky little girls out there will be delighted with the new Corral T-Rex Pink, the historical Peg Perego model with a 12-Volt rechargeable battery in an ultra modern and feminine version for girls aged 3 and over. The off-road feel is guaranteed by large wheels and the height of the base off the ground, enabling kids to travel off road in complete safety.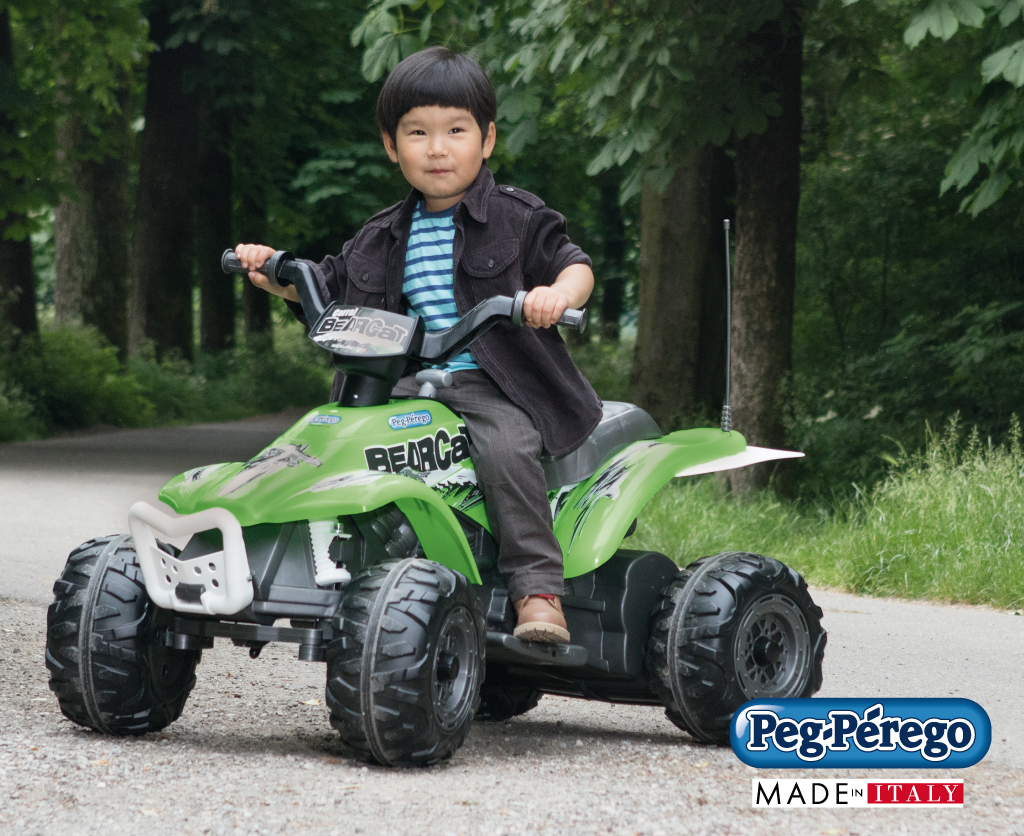 Your kids will be given a whiff of the sweet smell of adventure riding the new Corral Bearcat, the gritty electric quad capable of tackling dirt roads and rough terrains in complete safety. A 6-volt rechargeable battery ensures hours of unforgettable fun for children aged 2 and over! Its extraordinary features include: detailed bodywork, front bumper to protect against accidental bumps, fenders to limit splashes, rear spoilers to protect further against dirt, and large footrests for excellent stability when cornering.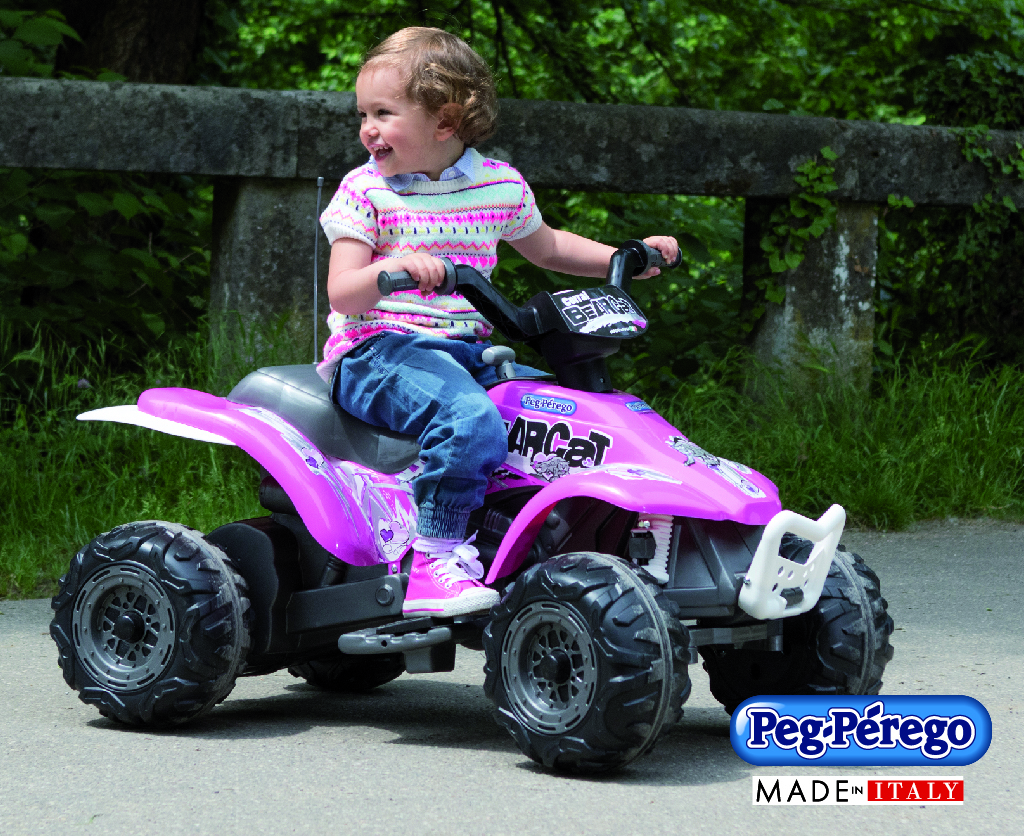 Corral Bearcat Pink is the version dedicated to adventurous little girls.
Country life is whole load more fun with the new John Deere products, such as the Gator HPX 6×4 and the John Deere Power Pull.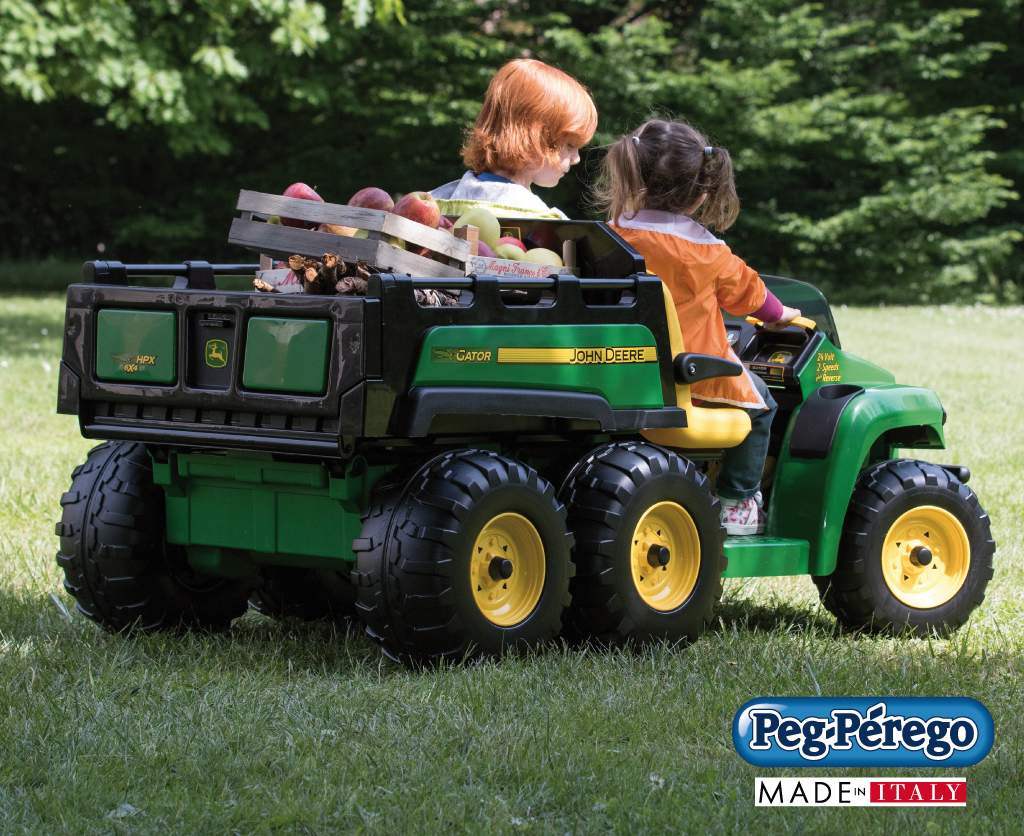 The John Deere Gator HPX 6 × 4 is an electric utility vehicle for children aged 3 and over. It is a true wonder! This powerful 4-wheel drive vehicle comes with a 24-Volt rechargeable battery, 6 wheels and a large load capacity, and can handle all surfaces, even the roughest and most uneven terrains, as well as climbing slopes of up to 17%. Its 2-seater cabin is ideal for children who love to play in company.
John Deere Gator HPX 6 × 4 comes with a huge tipper that can carry up to 30 kg. But that's not all! It was designed for prolonged use: when your child grows a little older, you can adjust the seat position to provide more legroom to suit any driver.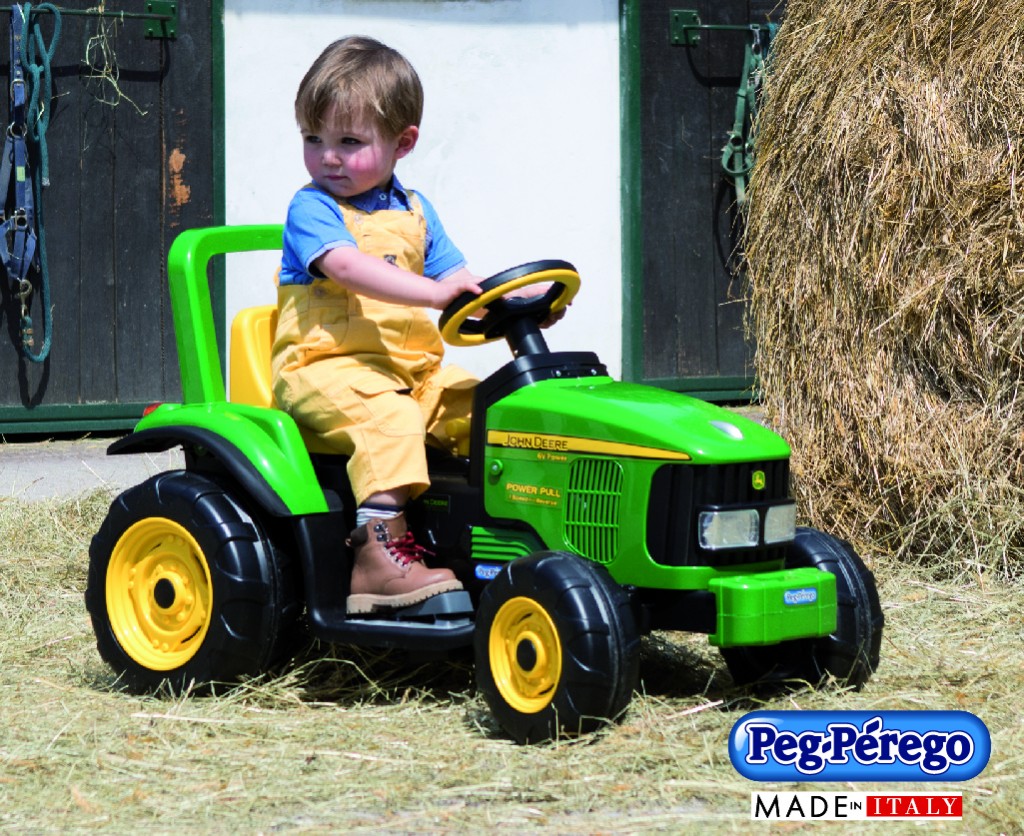 John Deere Power Pull is a new tractor, powered by a 6-Volt rechargeablebattery, dedicated to children aged 2 and over who love to play outdoors for hours on end, inventing ever-new adventures or simply imitating their elders. With the John Deere Stake-Side Trailer (sold separately), your children can carry about everything they need, experiencing incredible adventures and helping mom and dad in the garden.
Peg Perego toys are fun, super-equipped, made to last, easy to use and, above all, safe.
Is your child the off-road or the country type? Discover the full range of Peg Perego toys for children worldwide. Because growing up is fun!
Tags » toys, new electric toys, new peg perego toys