Dark or light coloured? Trendy or classic colours? As you select the travel system or the stroller you need, do not underestimate details that, at first glance, do not seem important but may have a considerable impact in the future. A free-standing stroller can be a life- saver, and so can a large basket.
A travel bag is essential at the beginning, but as time passes you will realise that a basket is crucial – especially if your stroller has one handle, because you really have nowhere to hang your bags.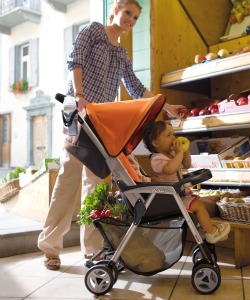 A stroller basket must be large and easy to reach even when a child is sitting on it. Always double check, especially when dealing with a lightweight stroller, that the basket's load is not reduced if a child is sitting on the stroller.
What are you going to put in the basket? The day's shopping is most likely – the odds and ends you need in your fridge and that you pop out to buy (usually the milk, fruit or vegetables). It may not be much, but it must fit in the basket.
When your little one starts walking and you go to the park or the beach, toys will fill the basket – bucket and spade if you go to the sea, an ever-popular pull-along animal if you go to the park and, crucially, a ball. If the ball does not fit in the basket, then yes, you have a problem.
Toys, sand, muck – needless to say, a basket must be easy to remove and wash, as you really cannot imagine what is going to end up in there. The stroller must fold without removing the basket (just thinking about emptying the basket every time you collapse the stroller should send shivers down your back).
As you look through stroller models, remember that a basket is important. Be long-sighted – if you are thinking of having a second child, the basket will have to hold twice as much.