When you say "high chair" you think of those sturdy but slightly uncomfortable wooden chairs with armrests, which marked your childhood between one snack and the next.
It is difficult to associate a high chair with an image of peace and comfort. Weaning frequently overlaps with tantrums and food scattered all over the kitchen because – let's face it – no child really likes leaving mum's warm embrace and having to sit up at table instead.
In this sense, technology and design can really help today's mums thanks to multi-functional high chairs, designed to ensure maximum comfort for children and especially for parents. It is well known that for Italians meals are sacred and a moment of pleasure – why give up such a thing?
Follow us and I will explain to you why Tatamia Peg Perego is the ideal multi-functional high chair to make your child appreciate, from the very beginning, more than just the joys of sitting at table!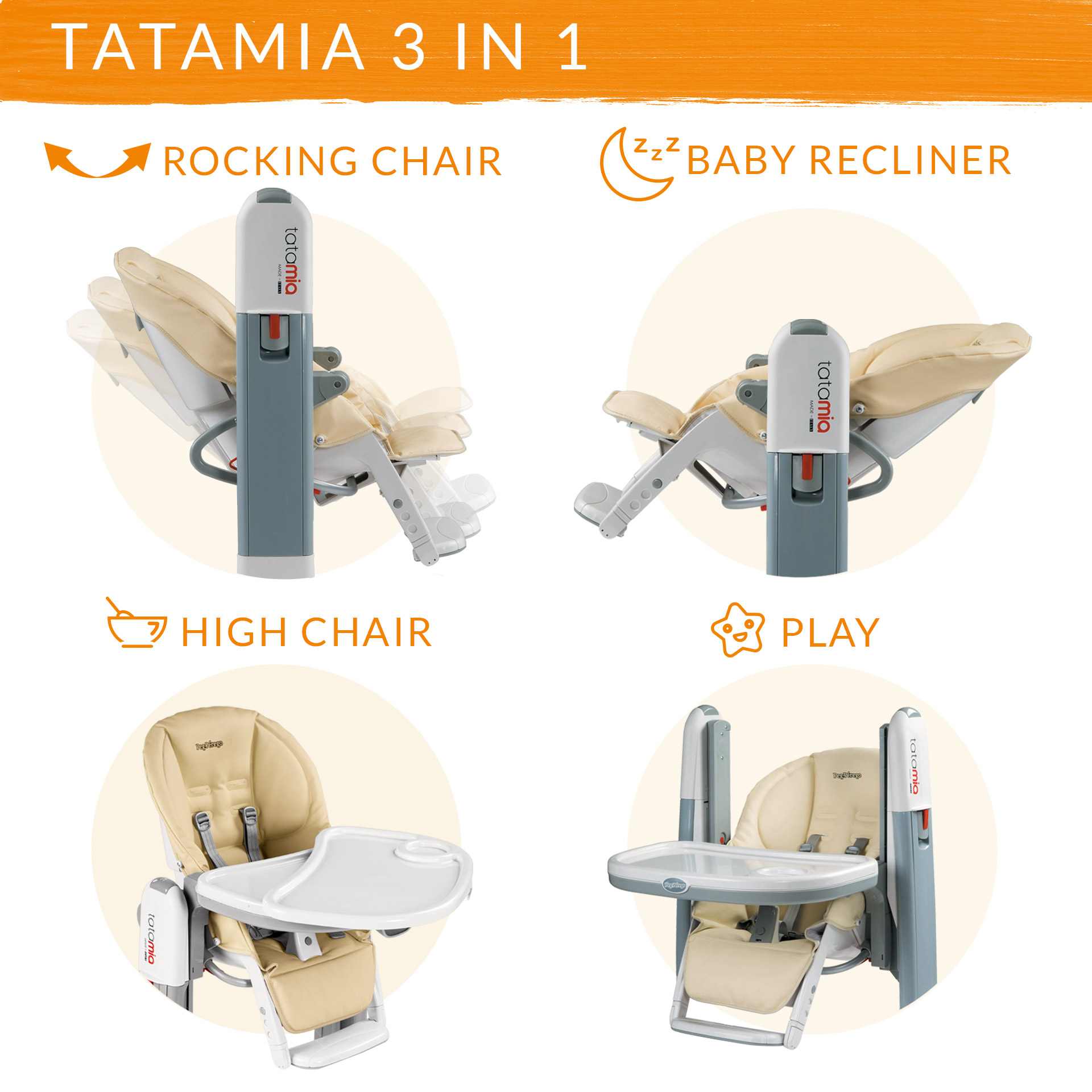 Reason 1: you can use it from birth
Usually, a high chair for meals enters our kitchen when our child turns 6 months old. Before this age, children have not developed the muscles needed to sit up unaided and, most importantly, it is around this age that children start to be weaned with semi-liquid foods.
Tatamia Peg Perego is at your side from the very beginning of your child's life because it is suitable from birth. Its swing function allows you to have your child next to you as you eat with the rest of the family, rocking your little one gently so that your meal is not interrupted by sudden screaming or unexpected surprises. It is also a comfortable recliner! Thanks to the  Comfort Recline system, comfortable naps are guaranteed – the seat slides forwards, turning the high chair into a welcoming recliner.
With the Tatamia high chair, your child will:
• become familiar with the high chair used for weaning when he or she becomes older;
• learn to be at table with parents and siblings, fitting into the family routine without disrupting it.
Isn't that great?
Reason 2: too nice to hide
Assemble, disassemble and reassemble the high chair every time: why? It is far better to have a high chair that is easy to move, to assemble when the child is born and disassemble many years later.
Tatamia Peg Perego, in addition to being comfortable and spacious for your child, is also easy to move from one room to another thanks to the Stop & Go system, which allows you, with one button, to fix it firmly next to kitchen table or to move it easily into the living room without damaging the floor, thanks to the non-scratch wheels.
PS: the button is sibling-proof, so older brothers or sisters will not be able to move the high chair.

Reason 3: too comfortable and convenient not to use all the time! 
Weaning stress is what could make peaceful meals in your home impossible for months and months.
Switching from milk to solid food – however natural – could be a source of stress for your child and for the entire family. Tears, screams, baby pasta and puréed fruit all over the place could become your daily routine.
However, we have a very good reason for being optimistic: Tatamia Peg Perego will become your child's best friend and will be with him or her as he or she, gently and gradually, moves from drinking only milk to holding the first spoonful of solid food.
This is because:
• welcoming eco leather:
  its cover makes it as soft as mum's embrace. A clean embrace: the cover can be easily cleaned with a damp cloth.
• From swing to recliner to high chair, without your little one even noticing:
  adjustable in height in 9 different positions, with a comfort recliner and anatomical leg divider, it will be your most comfortable ally          during weaning.
• You will always find the right position:
the backrest may be reclined into 4 positions while the footrest may be adjusted to 3 positions.
• Safety:
padded anatomical child seat with 3-point safety harness.
• From eating to playing or drawing:
even if meals are important and dedicated wholly to eating, thanks to the removable and machine-washable double tray, even the most active             children will be able to switch from snack time to coloured crayons with no fuss at all.
It is also convenient when folded, as it is free standing and easy to store.
Any doubts?
Do you want to learn more about the advantages of Tatamia Peg Perego? You will find all the information you are looking for here.