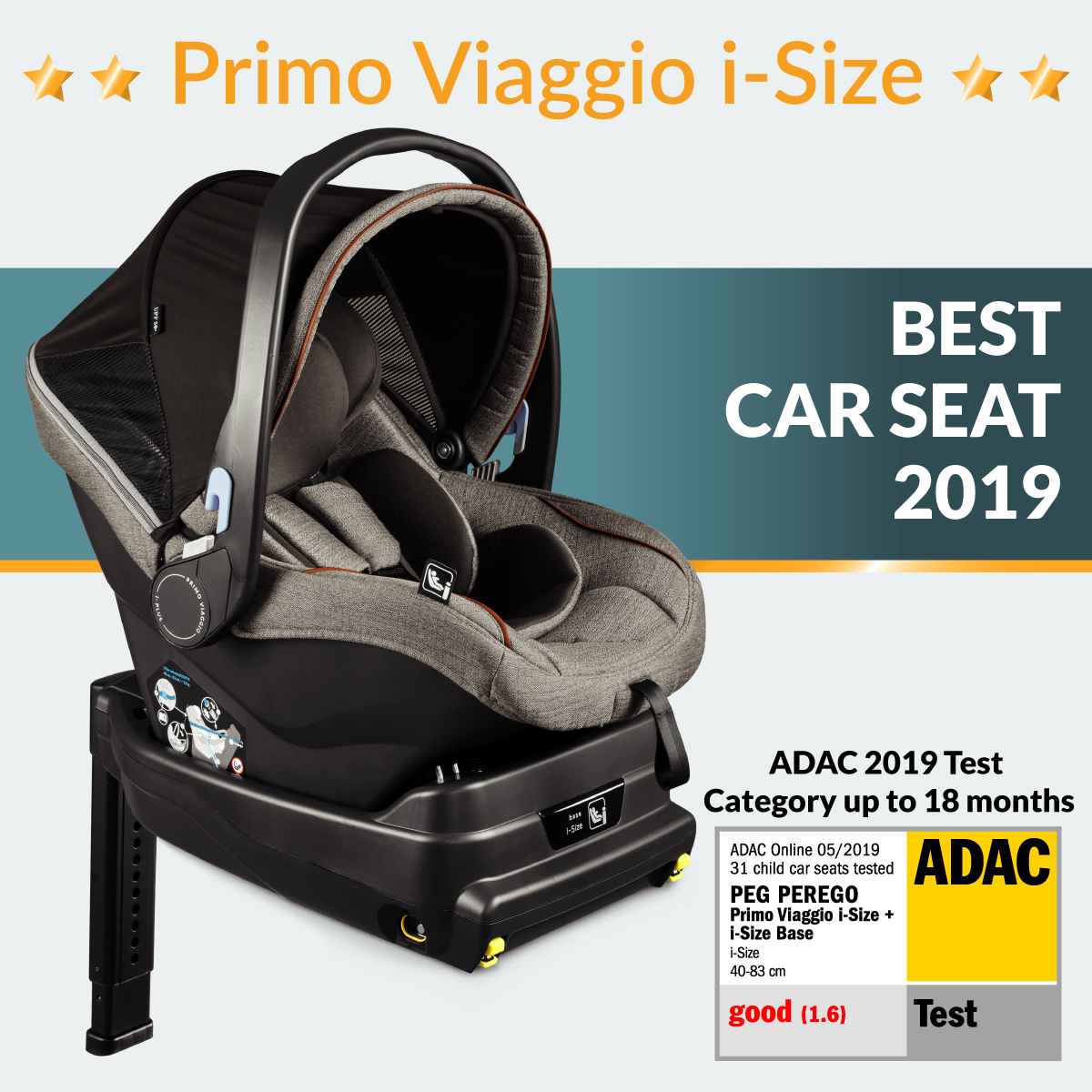 How can the unique characteristics of a car seat be objectively assessed? To choose your child's car seat you often rely on the opinions and experiences of the people you know or on reviews you find online. There are, however, organizations that can help you make this delicate decision. Their accurate assessment tests, which include crash tests, stress car seats in various ways until a final decision is reached, which comes as real consumer advice.
The most important among these impartial bodies is the ICRT (International Consumer Report & Testing), which combines 37 organizations in 33 countries worldwide.  Among them, the ADAC (German automobile club), TCS (Swiss Touring Club) and ÖAMTC (the Austrian equivalent) every year select a group of car seats that they test. The results are then published by the main consumer associations (e.g. Stitungwarentest in Germany, Altroconsumo in Italy, Que Choisir in France, Which? in the UK).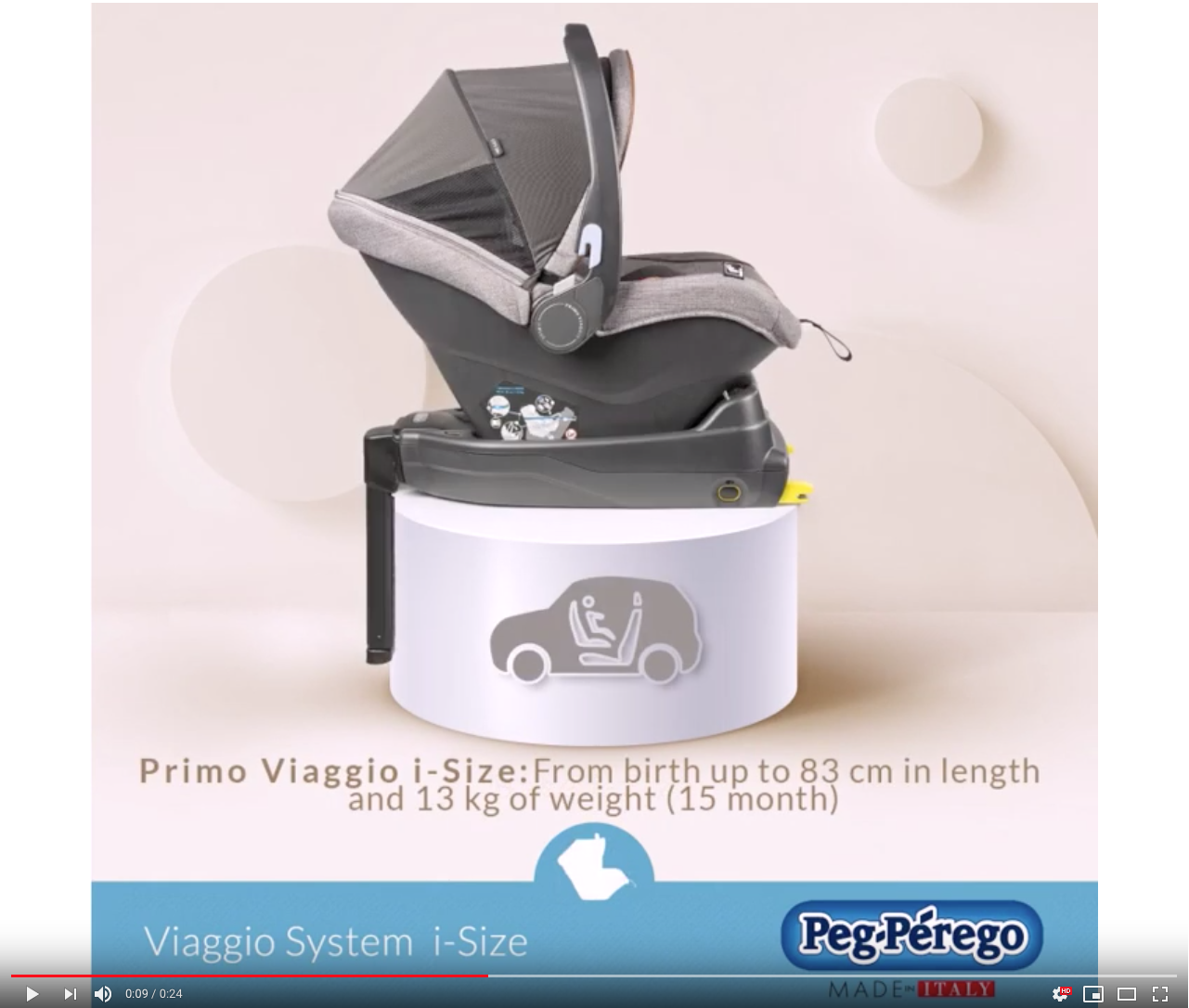 Primo Viaggio i-Size is the best car seat in its category
According to the ADAC 2019 tests, the Peg Perego Primo Viaggio i-Size (Base included), is the best car seat in its category, i.e. from birth to 18 months. Our Primo Viaggio i-Size car seat scored excellent results in the 2019 tests carried out by Stiftung Warentest, ADAC, ÖAMTC and TCS.
How testing assigns the final grade
Tests are carried out according to 4 categories: Safety, Handling, Ergonomics and Pollutants. The 5 assessment grades are:
• Excellent (0,5 – 1,5)
• Highly recommended (1,6 – 2,5)
• Recommended (2,6 – 3,5)
• Recommended with reserve (3,6 – 4,5)
• Not recommended (4,6 – 5,5)
Quality standards are very high; the final grade is the average of the results in the 4 categories, considering that the Safety category has the greatest influence on the result.
ADAC assigns Highly Recommended to Primo Viaggio i-Size
The Primo Viaggio i-Size (Base included) car seat was assigned an overall grade of '1.6', the best in the 0-18 month category, so its overall ranking, according to ADAC 2019, is 'highly recommended'. Here are the details of each of the assessed criteria:
• Safety: VERY GOOD (1.4)
• Handling: GOOD (1.8)
• Ergonomics: GOOD (1.9)
• Pollutants: GOOD (2.2)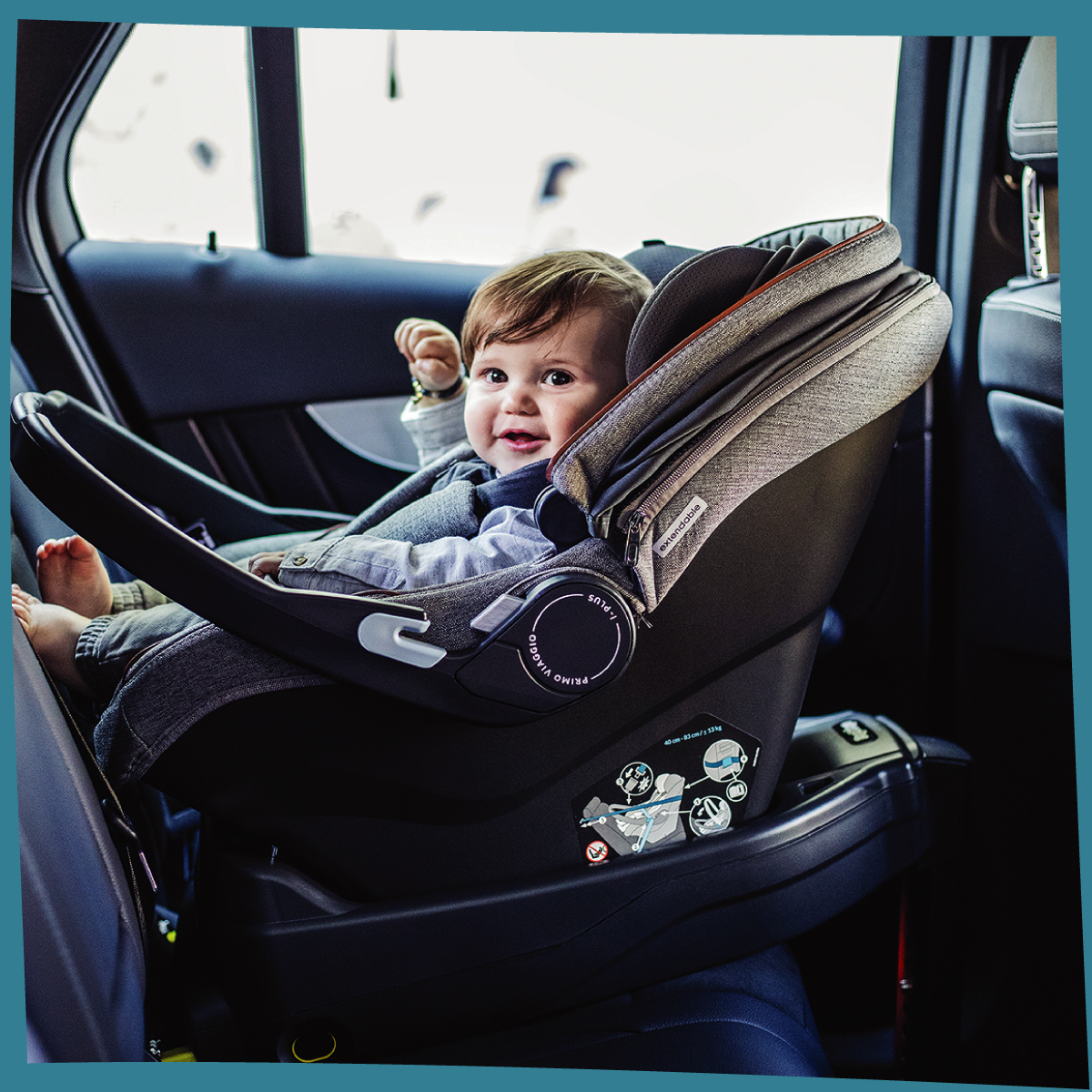 What you need to know about Primo Viaggio i-Size
Primo Viaggio i-Size is a product whose excellence is widely acknowledged, the best candidate for being your child's first car seat. Here is what makes this car seat so special:
• Suitable for babies from 40 to 83 cm in length, 13 kg (15 months), according to the new ECE R 129 i-Size standard.
• 1 EPS – 2 EPP improved protection from the absorption of impact energy
• Adjustable Side Impact Protection (ASIP).
• Tri-Stage Cushion: adapts as the baby grows, guaranteeing comfort and safety.
• Pagoda hood: large extensible UPF 50+ hood with mesh for ventilation.
• i-Size base included.
• 3-point harness, adjustable headrest with 5 positions.
• Automatic attachment system on Peg Perego chassis.
• i-Size base can be re-used with the Viaggio FF 105 car seat.
Primo Viaggio i-Size is comfortable and welcoming for your child, and it is easy for you to install it in the car. It enables the child to travel rear-facing for longer (from birth until 83 cm in length and up to 13 Kg – 15 months), which according to statistics is the safest position.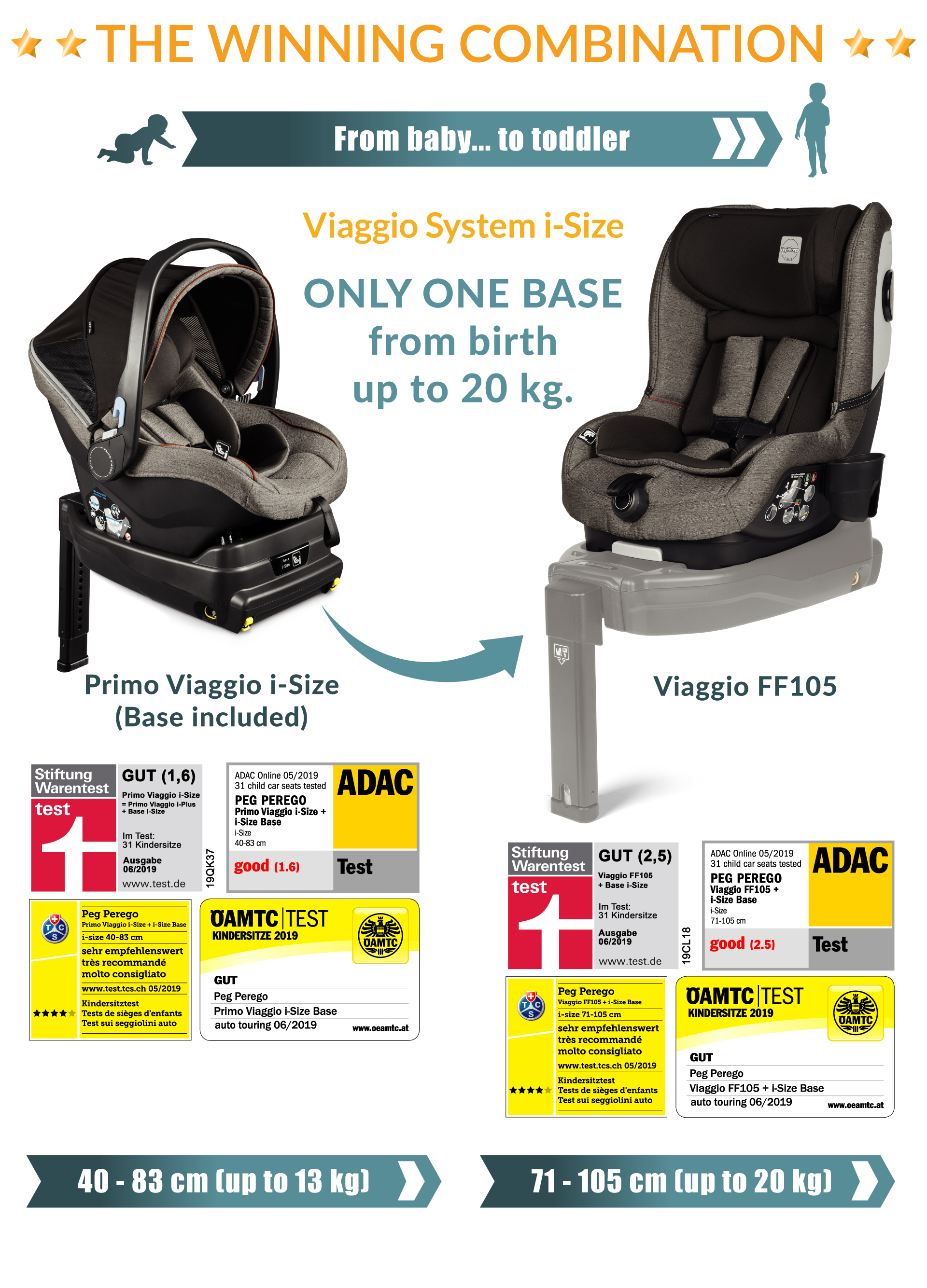 With Viaggio FF105, it is the winning combination
And after Primo Viaggio i-Size, which car seat should you choose? You already have the i-Size base and you can use it with the Viaggio FF105 car seat, which complies with the new ECE R 129 i-Size standard, from 71 to 105 cm – up to 20 Kg (from 1 to 4 years approximately).
Viaggio FF105 obtained good results in ADAC's 2019 tests, with a final score of 2 ('Highly recommended'). What does Viaggio FF105 have to offer? Here are its main features:
• Only for use with the i-Size Base.
• Adjustable Side Impact Protection (ASIP).
• EPS for absorbing shock from impact.
• Infinite Recline: reclining back-rest that can be locked into a number of positions.
• Headrest: easy to lock into 6 positions.
• Chest clip: keeps the straps in the right position.
• 5-point harness with soft shoulder pads.
• Kinetic pods: maximum side impact protection.
• Ergonomic movement reducing cushion
• Harness retainer: makes seating the child easier.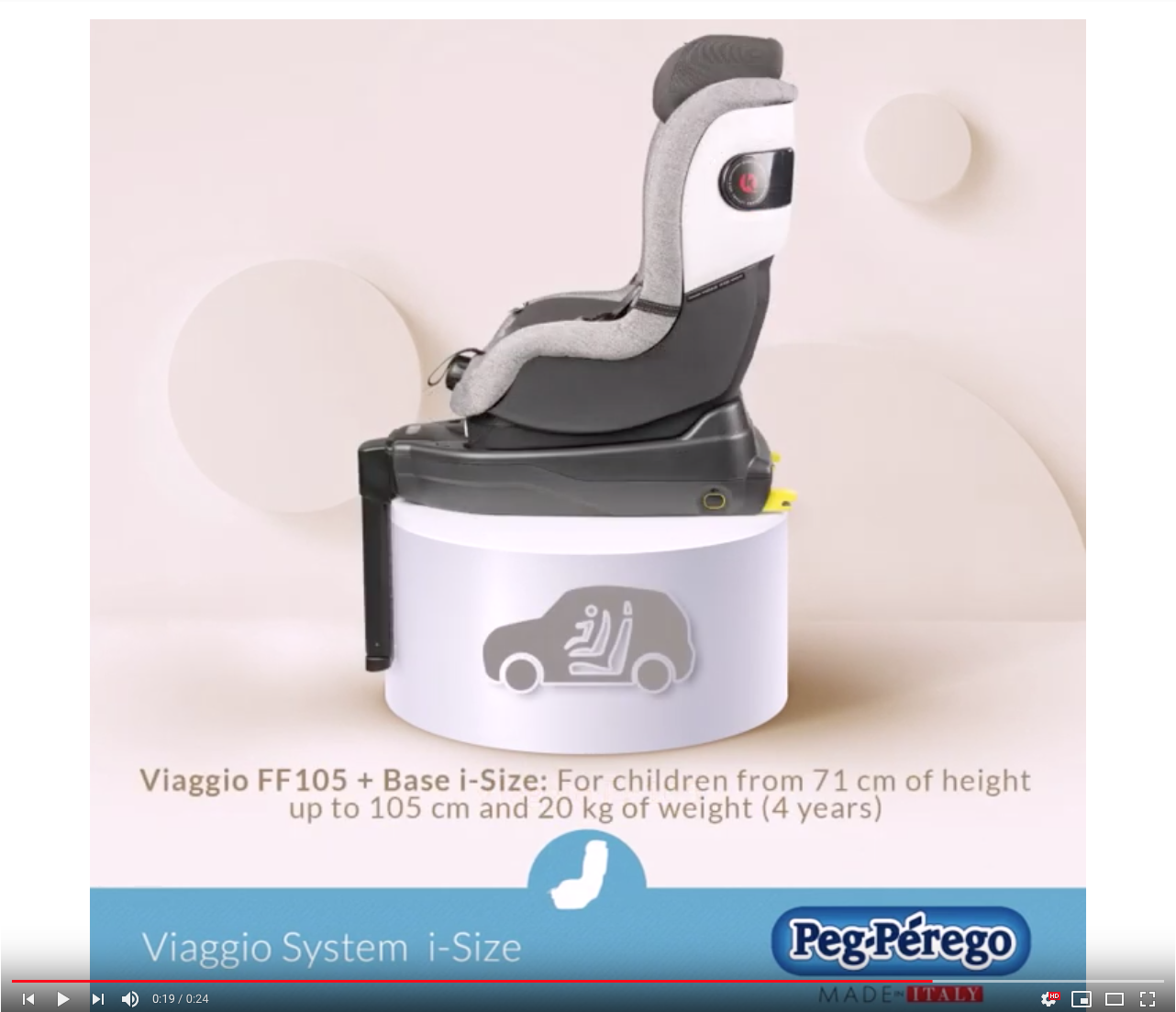 Peg Perego is proud to design and manufacture excellent products dedicated to the well-being and safety of children.
Learn about all the products - Car Seats and Car Accessories
#morethanajourney