Introducing the electric bulldozer for children who likw to play at being grown up
Children just love to watch – and help! – Dad and Grampa at work in the garden or courtyard. And bring on those grown-up tools! Manual and electric equipment, small tractors and bulldozers.
Working with Dad is fun!
When Dad and Grampa are busy at work with all those jobs, big and small, in the garden and courtyard, little ones just love to help out. So why not let your child have a go? 100% fun guaranteed.
The electric bulldozer for children
Suitable from the age of three, you can now finally meet those "Can I help Dad, pleaaaase?!" with a confident, "Sure, why not?". There are plenty of grown-up things he can do – the sort that makes him come home dirty and tired, but happy to have helped out.
And you'll be so proud watching him manoeuvre the Deere Construction Loader – the perfect tool for your little one. With this electric bulldozer for children, which runs on a 12V/8Ah rechargeable battery, your child will be able to control the digging bucket, with all the safety of a high quality product designed and made in Italy. All your son will need to become your hard-working assistant is a pair of dungarees and a work hat.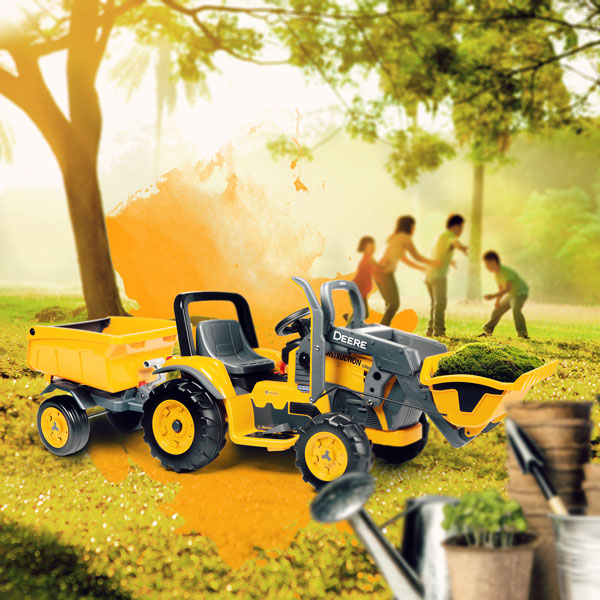 Make your tiny tot feel all grown up
Once settled in the adjustable seat of the Deere Construction Loader, he can switch on the FM radio – just as you do for company while sorting out the garage or painting the wall.
The controls to raise and lower the digging bucket are within easy reach of the driver's seat. Loading and moving material (gravel, earth, sand, grass, snow, etc.) wherever you want it is now…well..child's play! Mum will be amazed to see her little one being so good and efficient working alongside Dad.
The Deere Construction Loader has two speeds and a reverse gear to negotiate difficult corners and hunt through the garden for things to do.
7 things your child can do with the Deere
Construction Loader
This is no simple bulldozer! It is a faithful working reproduction, in miniature scale, of the American John Deere models. The only limit to your child's play is that posed by your garden – because with the Deere Construction Loader, playing indoors is strictly forbidden. Decked out in work clothes, with his sleeves rolled up, there's no end to the outdoor fun your child can have!
7 ways (we know) of having fun with your son and the Deere Construction Loader:
Something easy to get started? Get him to learn to use the controls by loading clothes pegs and taking them over to the line.
Does he have an inseparable cuddly toy? He can keep it at his side, or prop him up in the digging bucket as he dashes around the garden.
Just cut the grass? He can load it onto the bucket and drop it next to the compost bin.
Holes in the garden? Let him carry over some earth and fill them in.
Lots of leaves on the ground? Time to clear up with the Deere Construction Loader.
Has it snowed? Finally someone who can give you a hand to move the smaller piles.
Need more loading capacity? The Deere Construction Trailer can carry up to 10 kg.
And that's just the start! The Deere Construction Loader is indeed a bulldozer, but it is also a means of unleashing your child's imagination and creativity. So just rev up and get down to work. And above all, have fun playing with your son.
The Deere Construction Loader forms part of the Peg Perego line of John Deere electric tractors for children aged 3 and up.

Made-in-Peg Perego quality and safety.
The quality of Peg Perego products is reflected in details guaranteeing the utmost safety. This product comes with a sealed base to protect the driver from electrical wires and tampering, and to protect the vehicle from water, mud and sand. The battery is protected by a child-safe battery lock.