Christmas is upon us, and we hope you to spend it peacefully. So, just leave the entertainment… to us! To impress your children at Christmas, here is a quick and complete guide to all the latest Peg Perego Toys. 
With us, finding a unique and amazing Christmas gift idea for your children is easy. Peg Perego has developed new electric vehicles - motorbikes, off-road vehicles, quads and tractors - to spend a fun Christmas, and another 364 fantastic days!
Discover all the new toys for the year 2015 – Christmas gifts for children that also appeal to adults: 
MOTORBIKE
Ducati Hypercross - The off-road motorbike, Ducati style!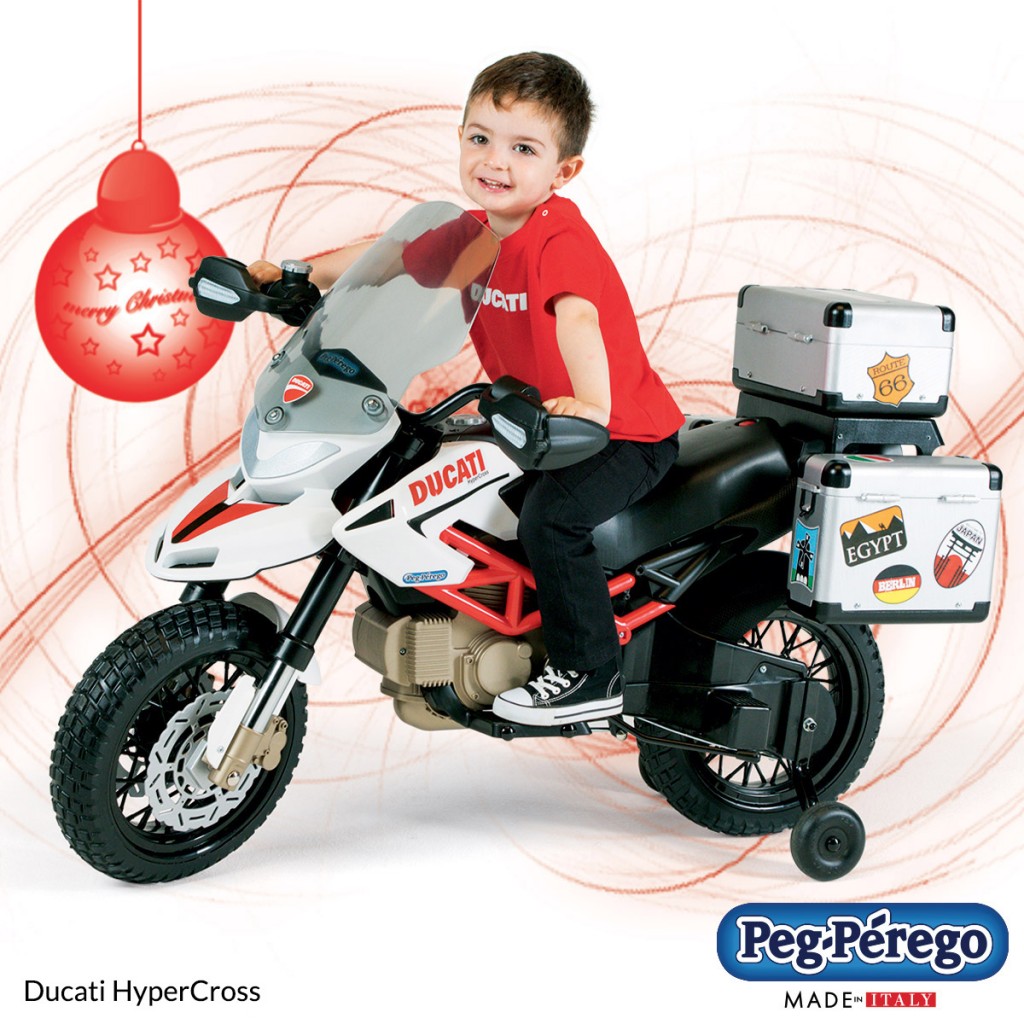 Agile and rich in details, the Ducati HyperCross is the electric motorbike, running on a 12 Volt rechargeable battery, for children aged 3 and up, that travels at a speed of nearly 8 km/h and offers unforgettable adventures, even on rough terrain.
And to play safely, the certified Ducati helmet (sold separately) is a must-have accessory to protect your child and get him used to the rules of the road.
OFF-ROAD VEHICLES
Polaris Ranger RZR 900 - A working horn and great power!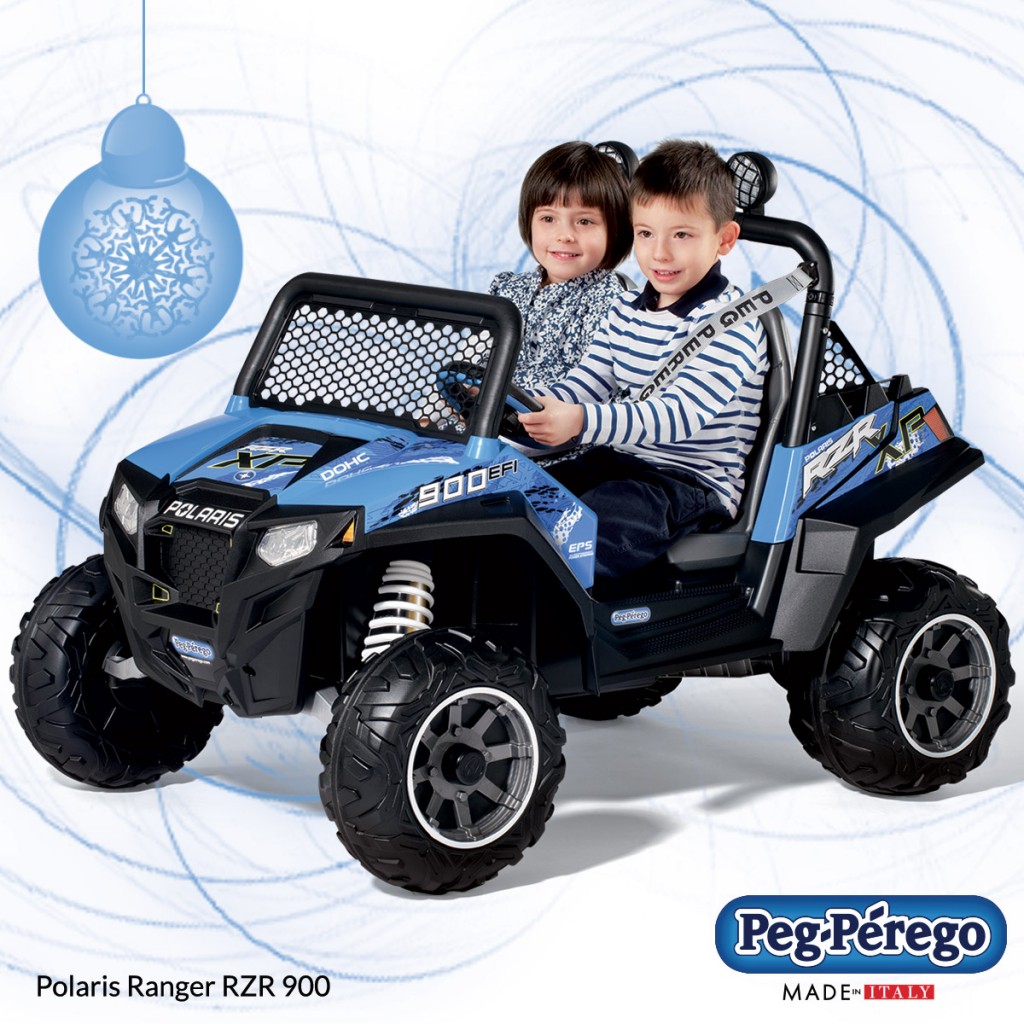 The belovedPolaris Ranger RZR 900  renews its look to continue to amaze and amuse children around the world. This is a detailed reproduction of the famous off-road vehicle developed by the US manufacturer. Polaris Ranger RZR 900 is electric and has a 12 Volt rechargeable battery that powers two engines of 230W each, allowing your child to easily tackle climbs with a slope of up to 17% and to overcome the most rugged terrains, potholes, bumps and tree roots. Sheer fun for children aged 3 and up who are curious and love riding and coming up with new adventures.
Polaris Ranger RZR – The powerful and unstoppable off-road vehicle!
Polaris Ranger RZR is a powerful electric off-road vehicle running on a 24 Volt rechargeable battery, dedicated to adventurous children aged 6 and up. Lively and dynamic, Polaris Ranger RZR easily handles the steepest slopes and the most challenging paths. It combines practicality, manageability and ease of use in a solid and robust body, so that your child can enjoy limitless adventures.
QUAD
Corral T-Rex Pink – For gritty girls!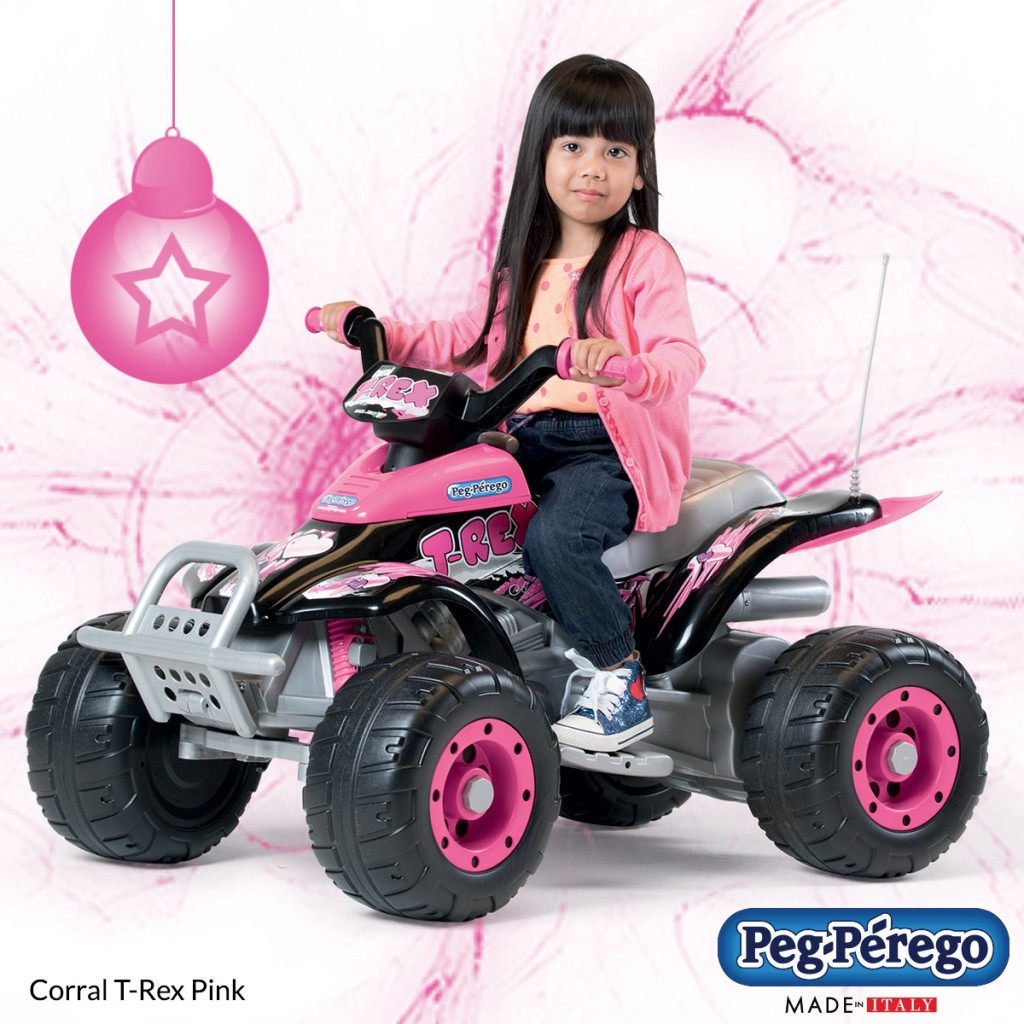 Corral T-Rex Pink  is the special edition with fuchsia pink accents for girls who love sports driving with a touch of glamour. Corral T-Rex Pink is the electric quad with rechargeable 12 Volt battery for girls aged 3 and up; a quad with soft, sinuous lines and a gritty design.
Corral Bearcat – Ready? Go! Strap into the seat for amazing adventures.
Sheer entertainment is guaranteed with Corral Bearcat, the gritty rechargeable 6V electric quad for children aged 2 and up to make your playing days unforgettable! Corral Bearcat unleashes the wild fun of the most energetic children. It can reach the top speed of 3.7 km/h. Its wheels with high distance from the bottom allow you to travel off the road with safety, even on gravel and uneven terrain, for adventures without limits!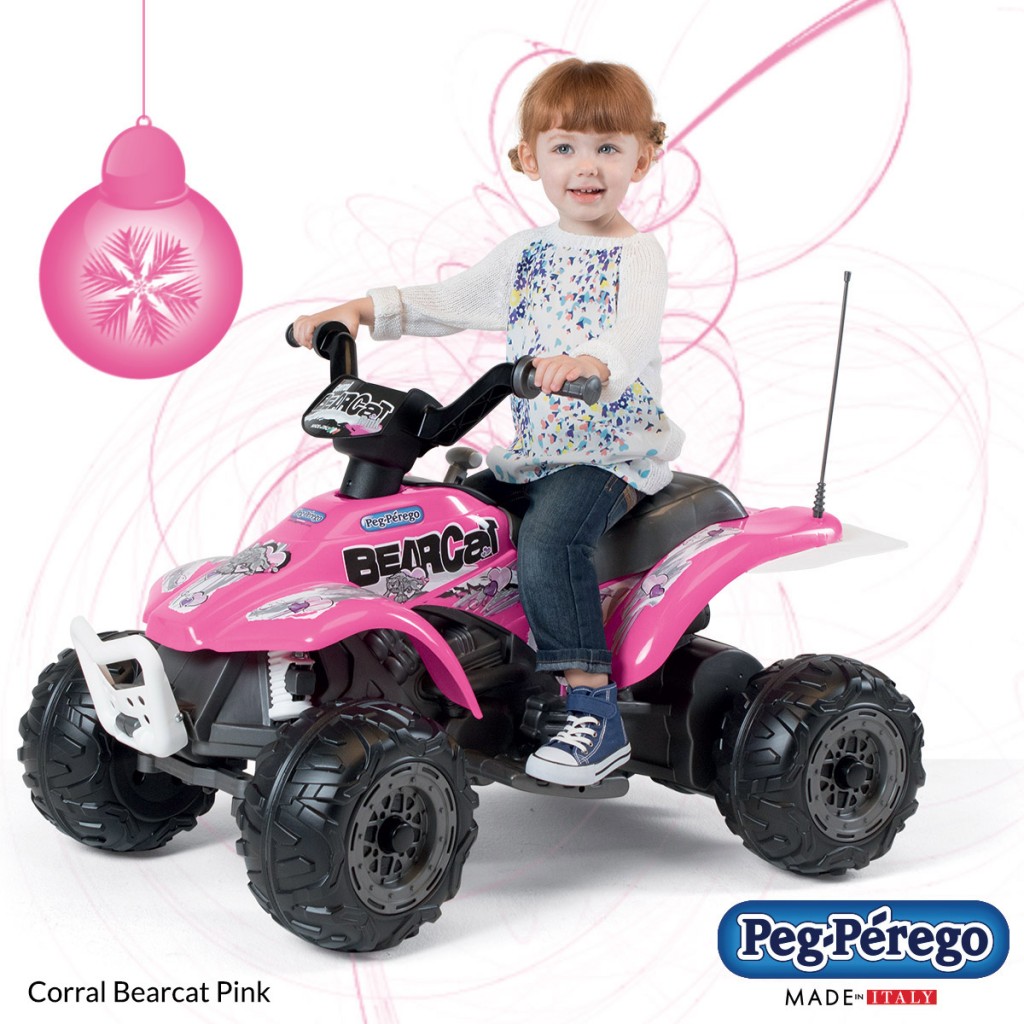 Discover the glam version just for girls: Corral Bearcat Pink
TRACTORS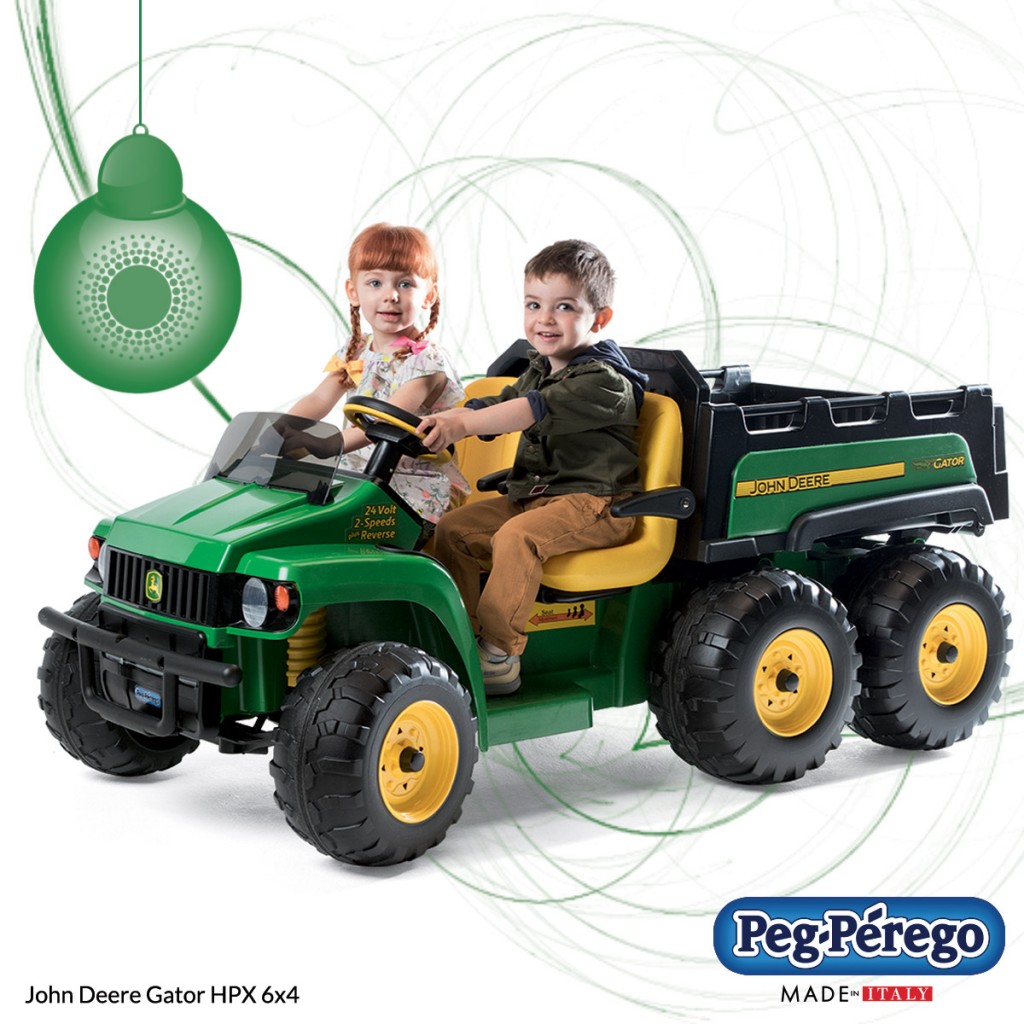 John Deere Gator HPX 6×4 – The 6-wheel electric utility vehicle. Now that's what I call playing!
Inspired by the original Gator HPX of the famous U.S. manufacturer, John Deere Gator HPX 6×4, with its powerful 4-wheel drive, is a very special toy. Decorated with the unmistakable colours of John Deere, Gator HPX 6×4 is the electric utility vehicle with 6 wheels and 24 Volt rechargeable battery. A true force of nature, the John Deere Gator HPX 6×4 travels on all surfaces, even the most rugged, and can tackle differences in elevation with a slope of up to 17%. Its two-seater cabin is dedicated to children aged 3 and up who like playing hard and in the company of friends.
John Deere Power Pull – Just like on a real tractor!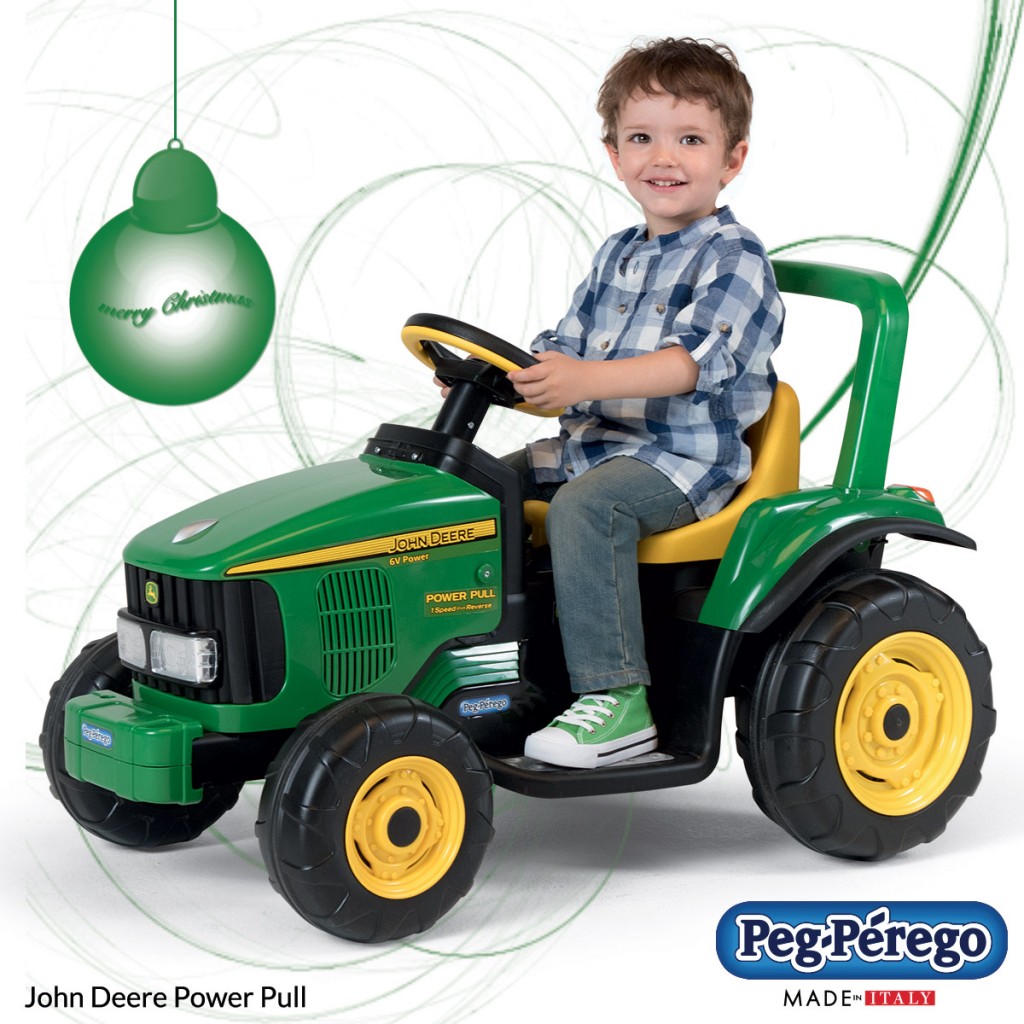 The awesome tractor with 6-volt rechargeable battery  John Deere Power Pull is the detailed reproduction of the famous American tractor by John Deere. This tractor is designed for the wildest toddlers, aged 2 and up, who like to play outdoors for hours on end, inventing new adventures or simply imitating adults.
The John Deere Stake-Side Trailer (suitable for all Peg Perego tractors and sold separately), is the perfect accessory, providing lots of cargo space.
Discover all the Peg Perego electrical toys for children: single-seater cars, two-seater cars, three-wheel motorbikes, tricycles, pedal tractors and trailers, for a truly special Christmas.
Happy Holidays from PegPerego!