We receive many questions and information requests concerning our faux leather covers. We have already spoken about the material and described its characteristics with regard to high chairs. However, many people would like to know more about how to maintain their faux leather covers, and in particularly how to clean them, especially with regard to strollers.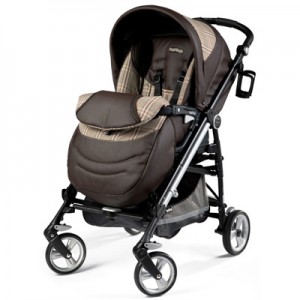 Used on a daily basis, they clearly come into contact with dirt, soil and mud, and often require a thorough clean as, unlike the high chair, their "mission" is mainly out of doors.
For a first rub over, faux leather can be quickly cleaned with a damp cloth. Quickly because, unlike fabric, dirt does not penetrate, and can thus be removed more easily. Moreover, wet parts dry almost immediately, while fabric may require some time.
For more thorough cleaning, the cover with faux leather inserts can be removed, just like our fabric covers. In this way, you can get to clean even the most hidden corners, and even wash the cover safely in the washing machine at a maximum temperature of 30°.
If you prefer, however, you can easily wash it by hand.
Whether washed by hand or in the washing machine, our faux leather covers are not spoiled and do not shrink, provided the instructions are followed correctly.
The faux leather we use for our covers is certified, and hence subjected to a series of tests to verify its characteristics. Besides certification, we at PegPerego carry out further tests, verifying use of the certified material as a cover, to avoid problems once the product reaches the consumer.
Faux leather is an extremely resistant material that is being increasingly used due to its characteristics. While resistant, it is also easy to clean. But the fact that it is quick to clean with a damp cloth does not mean the entire cover cannot be thoroughly washed, just as you would a fabric cover.
Its resistance and practicality make it the ideal "ally" of contemporary moms, always on the lookout for products that make life easier without jeopardizing quality. Pretty good, right?