A chil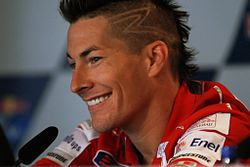 d sized legend: our Ducati GP Limited Edition, in addition to the all-Italian Ducati, also wishes to celebrate a special track, Laguna Seca (Monterey, USA), and a great rider, Nicky Hayden, who on that very track has experienced and given us endless thrills and successes.
In Hyden's honor, our Ducati GP Limited Edition comes with a white, red and blue livery, and is enriched with stars, as a tribute to the American nationality of the 2006 GP World Champion. And did you notice? The motorcycle's number is 69, the one chosen by Nicky.
Why 69? Apparently that was the number used by his father when he used to race: an affectionate way to emphasize the closeness between Nicky Hayden and his dad ever since, as a child, Nicky began competing in motocross circuits.
Our Ducati GP Limited Edition is just the ticket, both for budding champions and aspiring coaches. With its special 24 V battery, it can reach a speed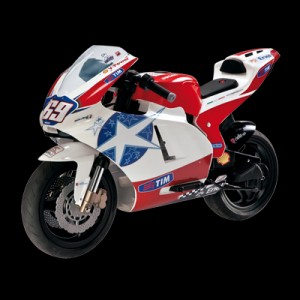 of 16 km/h, giving your young riders a real adrenaline rush!
Suitable from 6 years of age, the motorcycle offers real bike performances, thanks to the twist-grip throttle, brake pedal and rubber treaded wheels. Yes, moms, don't worry: the engine roar you hear is a "special effect"! And of course, once off the saddle, don't forget the prop stand – just like real drivers!
And to fulfill your budding rider's "dream"? Choose a Ducati helmet from our range of accessories: it's not a toy, but rather a certified safety device. It's never too early to learn good safety habits, right?