You are familiar with our successful battery-electric vehicles: off-road vehicles, motorcycles and quads, designed to allow your child to explore the world, either on his own or in the company of a friend on the two-seater models. We have often discussed the importance of seat belts on vehicles. Well, today we wish to speak to you about another very important accessory for those who choose our two-wheel models: the helmet.
What better accessory for our Ducati GP Valentino Rossi, Ducati Hypermotard and Ducati GP Limited Edition than our Ducati helmet?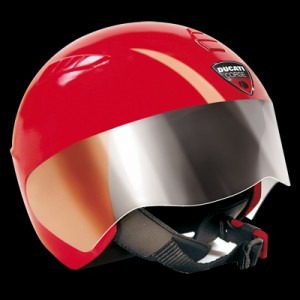 Our helmet is not a toy, but rather an element of personal protective equipment complying with the European directive 89/686/EEC and the harmonized standard UNI EN1080:03. As stated in the instruction leaflet, "The helmet is intended for use by young children riding a bike or carrying out activities in areas posing a threat of head injury or a potential threat of strangulation".
Basically, the type-approval obtained by our helmet is similar to that of skate and bike helmets recommended for kids, but not to those for children riding as passengers on motorcycles or mopeds and for downhill skiing and snowboarding.
As with any safety article, it is as essential to use an approved product as it is to use it properly.
The helmet should be adjusted to fit the child's head, the straps should not cover the ears and the buckle should be kept away from the jaw bone. The straps and buckle should be adjusted so as to be securely in place and comfortable. An anti- strangulation device enables the helmet to release in case of need. The helmet should be worn so as to protect the forehead, and should not be worn too far back on the head.
Of course, the helmet does not replace adequate supervision of the child. Furthermore, as for all safety devices, helmets subjected to violent impact should be replaced.
The use of a helmet is not strictly required, but it is recommended for all those situations in which the child may be injured, such as a bike ride or a jaunt on one of our electric vehicles.
In terms of maintenance, it is important to know that the helmet is made of materials subject to atmospheric changes, and therefore should not be exposed to direct sunlight or other heat sources. It should not be treated with hydrocarbon, paint, decals or other foreign material. Finally, it should not be cleaned with solvents, gasoline or other fuels to avoid damaging the visor, plastic components and interior lining.
Choosing a helmet for our children also means being committed to adopt safety standards that, when passed on from an early age, become good habits as adults.
So, if you have chosen one of our roaring Ducatis, what better accessory is there to turn your children into veritable champions in complete safety?