Elegant and refined, Alcantara® is one of the most precious and sought after upholstery materials.
Highly appreciated for its unique ability to combine aesthetics, sense perception, practicality and respect for the environment, Alcantara is used in a variety of sectors: in fact, the material is chosen by the most prestigious names in fashion, furniture, marine and car outfitting.
We have also chosen it for some of our products, and we present it to you here.
The result of a unique technology protected by an industrial patent, Alcantara® can especially be recognized for its elegance and softness, which come from a "writing effect" that still cannot be imitated. Delicate only in appearance, Alcantara is an extremely durable material: washable and scratch-proof, it will stay unaltered through time, even against abrasion, friction and wear. It is also lighter than other upholstery materials and is totally breathable.
The advantages of this material contribute to defining the uniqueness of Alcantara®, which combines physical wellbeing (comfort and softness) with style (beauty, elegance and design) and practicality (easy maintenance, durability, breathability).
An additional ethical aspect is its sustainability. Through a complex series of environmental projects, the manufacturer (Alcantara S.p.A.) has quantified, reduced and offset all CO2 emissions for the entire corporate and production process, earning the coveted Carbon Neutral certification. Therefore, ethics and respect for the environment are also among the values ​that distinguish this innovative material.
A first class excellence that we are pleased to offer as part of our 2013 collection. Alcantara® expresses a modern lifestyle with attention to detail: aesthetics, wellbeing, practicality and respect for the environment. The lifestyle of those who love to fully enjoy the products they use every day, within the context of an ethical choice. An orientation in which Peg Perego – dedicated for over sixty years to combining safety, quality and design in its products without ever losing sight of the desires and needs of the families – fully recognizes itself.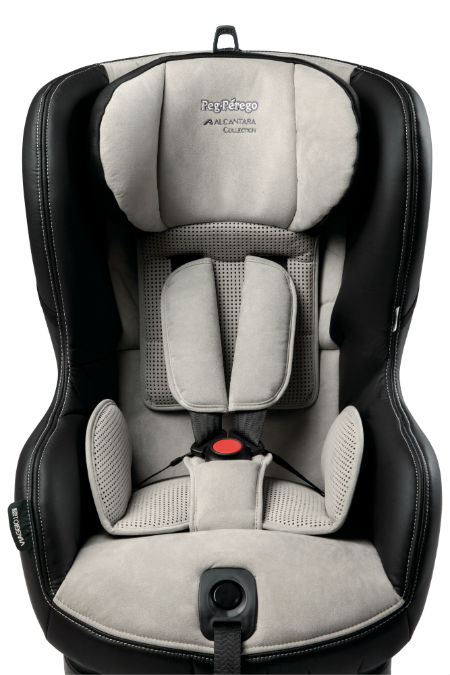 For the 2013 collection, we have chosen Alcantara® for Viaggio 1 Duo-Fix TT, our Group 1 car seat, in the Pearl Grey version. A sophisticated gray that enhances all the softness you'll wrap your child in, in a truly "top level" choice. And remember: for further information on this innovative material you can visit official website.