We told you about it in advance and now is the time to introduce it: here is Rialto, the brand new booster seat, the first of a new kind of made in PegPerego products.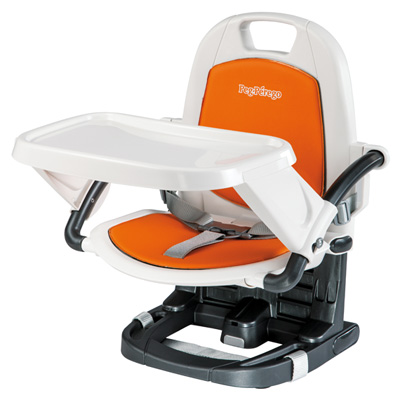 Suitable for children aged between about 9 months and 3 years, Rialto is easy to open, close and carry thanks to its practical travel bag. Perfect for a holiday home or flat, it is also great during here- today-gone-tomorrow weekends because it can be put up and folded so easily. And if you haven't 'equipped' the homes of grandparents, uncles and aunts yet, what is better than this to make your child feel at ease even away from home?
With non-slip rubber pads in every contact area, Rialto is secured to the chair with straps and its height can be adjusted.
Five height positions allow you to raise the seat by 6 to 18 centimeters, to keep up with a growing baby, centimeter by centimeter, offering the child the best position.
The padded seat and backrest ensure the child is perfectly comfortable. The cover, made with soft eco leather, can be easily removed and thoroughly cleaned with a damp cloth. The three-point safety harness and the tray keep the child secure, ensuring maximum safety.
The seat folds completely and can be stored in the travel bag (supplied), which makes it easy and comfortable to carry. It is also easy to store until the next time it is needed.
Rialto marks the entrance of another type of product in the great PegPerego family and we are certain it will give us lots of satisfaction. Meanwhile, here is a great presentation video – the best introduction to Rialto.