Great performance and incredible adventures await your children with the brand new Polaris Ranger RZR 900, encompassing all the features of its elder brother, the Polaris Ranger RZR 24 Volt, this time for children aged three and over.
This is the first 12 volt version of the electric off-road vehicle with rechargeable battery designed for future rangers. Supplied with a battery charger, two gears (forward and reverse), a height-adjustable seat designed to fit growing children, horn, accelerator and brake on the same pedal and seat belts, the Polaris Ranger RZR 900 is set to replicate the success of our off-road vehicle for older children, aged six years and over.
Its two seats will ensure even more fun-packed adventures, while driving is facilitated by a single pedal for both accelerating and braking, designed precisely to suit the coordination skills of children in this age group.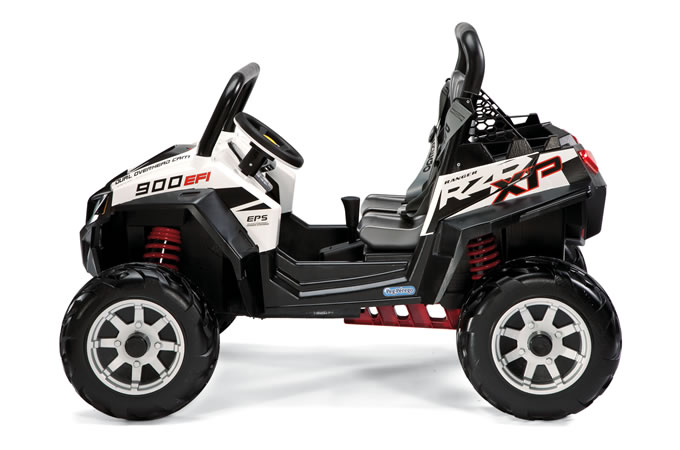 Of course, safety is always a priority: Polaris Ranger RZR 900 comes with seat belts to restrain driver and passenger appropriately and to teach children the importance of belting up, adventure after adventure.
Great attention is also paid to the "bodywork" with transfers worthy of a true ranger. The plucky design, carefully studied down to the tiniest detail, will delight children and adults alike. Because, let's face it, as children we all dreamed of setting off on an adventure in the company of a friend. Now you can give your child this opportunity, right from the age of three.