Quality and safety are the foundations for all PegPerego products yet focus is inevitably heightened when discussing car transportation, especially in Italy where only four out of ten children sit in car seats according to a recent ACI survey.
We met with Engineer Agrati last year during a round table dedicated to children's car safety. Today we are meeting with him again to ask him new questions on a key topic.
Engineer Agrati, manufacturing car seats means being constantly attentive and ready to implement new regulations or new solutions for our small passengers' safety. How do you work in this sense? Are there continuous tests and adjustments?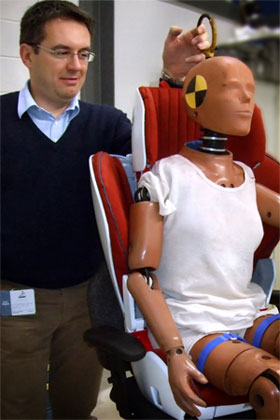 At PegPerego we have a fundamental value which is to only market products we have designed and studied and manufactured in-house. I'm lucky to work with a small, well-organized team, made up of young mothers and fathers who study products with their children's safety in mind.
What's more, we're not only attentive to what our competitors are doing but to what's going on in cross sectors such as the auto, fashion and new technology industries.
As for regulations, car products are directly certified for use by the various European transportation ministries and even those who develop innovative solutions must always receive their approval before marketing a car seat.
As for continuous testing, monitoring production with scheduled tests is mandatory in our sector. This is not only an excellent guarantee for our young customers, but also for us since we can thus monitor the entire production process, especially critical component purchases.
When a new product is conceived, what are the references that must be considered to create an innovative product? In your experience, which product or material do you think "marked a new era"?
The first reference is always to safety regulations. However, this is mandatory for everybody. Other "drivers" must be considered in order to create a winning product: it must be convenient and easy to use by mothers and fathers and grandparents; it must be comfortable for the child and it must convey the safety of a durable and well-made product to the purchaser.
You shouldn't let yourself be misguided by ultra hi-tech products. They are often hard to use and thus unsafe. I think that the product that truly marked a new era in this sector was the isofix: higher safety and easier use all wrapped up in one.
One question that we often find in these pages: why do car seats have an expiration date?
Because they are mainly made of plastic, a material that can be altered more than others by wear and sun exposure. Over time, plastic tends to become fragile, or hard with poor resistance to the shocks like those in car accidents.
Furthermore, the expiration date encourages the consumer to purchase more recent and safer products. A new car, with perhaps 6/8 standard airbags, is much safer than the same car manufactured 15 years ago. The same applies to car seats.
Parents sometimes feel as if children are not really comfortable with the restriction system. They often ask whether adding a cushion or pillow to let their children sleep better is a good idea. Is this worry unfounded? Are their measures that could influence the restriction's safety?
Unfortunately, there are some rules that depend on natural physics. You should always remember that car seats must perform two important functions: the first is to protect the occupant from vehicle parts that could hit him/her in an accident.
The second is to protect the child when braking, ensuring that the child's body is protected against forces that could damage him/her even without injuries. Of the two, perhaps the second function is more important.
Perhaps less intuitively, but more understandable in this job, braking has less effects on the child the harder the surface, the smaller the product and the more restricted the child is.
Unfortunately, comfort and safety are not on the same page: we attempt to find the best compromise. Cushions and pillow increase the force on the child during an accident and prevent the safety belt from being correctly fastened. If pillows and boosters are used, they must be those supplied with the product or directly designed by the manufacturer who certifies them with suitable dynamic tests.
Is there data, wording or an example that you use to convince friends never to put kids in the car without adequate restrictions?
I believe that we are all conscience of this fact; there are countless examples and articles in the news.
Our job is to manufacture safe car seats but we cannot make anyone buy them and use them unless out of respect for their children and for the law. Our job is to relentlessly improve products.
Correct car transportation depends on two factors: a car seat suited to the child's age and correct installation. What would you recommend to a parent who thinks s/he did not correctly install the seat?
Carefully read the instructions. We are highly focusing on this aspect by both improving the instructions and by providing video support on product installation, exploiting the new technologies available on the web.
Out of curiosity, how many car seats have you installed for relatives and friends?
Truthfully, I try not to, to see whether our products are easy or hard to install. Sometimes I have fun playing teacher…even if the result is always ensuring our little angels are always protected!