Premiered at the Marathon on Heels, we thought we would now describe it here in detail. What, I hear you ask? Book, the stroller that will delight you with its innovative design, refined fabrics, ease of use and compact size.
Book is easy to maneuverer, thanks to its solid height adjustable handle and to its four wheels with 12 ball bearings, for 360° rotation and thirty percent less effort.
Thanks to the innovative book-li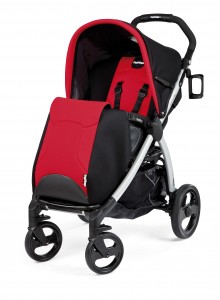 ke closing mechanism, Book opens and closes with one hand, and when closed, it stands up on its own. Furthermore, a convenient handle makes it easily to carry, just like a trolley. It takes up very little space in the car.
Book is available in two versions. The seat on Book faces away from mom while Book Plus has a reversible seat that can face either towards or away from her. Furthermore, Book Plus comes with a Modular set, consisting of a Navetta bassinet, a Primo Viaggio Trifix Group 0 + car seat and a matching bag. The seat, certified for use from birth, comes with an adjustable hood and a reclining backrest.
The frame is available in two color versions, classic silver / black and plucky all-black.
The "outfit" is also very important to stylish contemporary mothers. The stroller's innovative design and folding frame is flanked by a sophisticated range of colors and fabrics. The soft fabric collection is characterized by use of two soft jersey fabrics lined with soft padding. The embossed fabric collection stands out for its allover "tone on tone" pattern obtained by embossing, to add character to plain colored fabrics.
A wide range of colors is also available, from the classic to the most contemporary. And there is no shortage of accessories.
The excellence of the Book model, bringing together all the most appreciated features of our products, can also be seen in the range of fine new fabrics. The goal is always the same: making quality all-Italian products that are practical and easy to use, to improve the lives of mothers and fathers.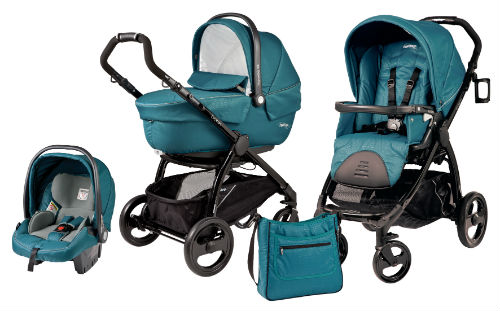 Freedom of movement is the slogan of the new Book campaign. For fifteen years, movement has been the greatest need of contemporary families, a need that Peg Perego meets by ensuring easy, agile and responsive maneuvering.
Follow us on the Peg Perego Channel