Are you a can't-keep-still mum? Are you always in a hurry to juggle shopping, getting to work and nursery in a big city where travelling with children by car, bus or underground – even walking – is an obstacle race? If you are, Pliko Switch Easy Drive was designed especially for you!
Moving may not be such a hassle now, with all the technological solutions that provide 360 degree freedom of movement in the latest Peg Perego jewel.
The four wheels with ball bearings and a single handle make this stroller so manoeuvrable that one hand is all it needs. We all know how useful it is to push a stroller and have a free hand for a toddler (or the dog, or a mobile phone) without worrying about crashing into someone as the stroller develops a will of its own!
What's more, Pliko Switch Easy Drive can be adjusted to suit your child as she grows. The seat can be rear or forward facing, so you can check your baby when she is very young and allow her to look at the world when she is older.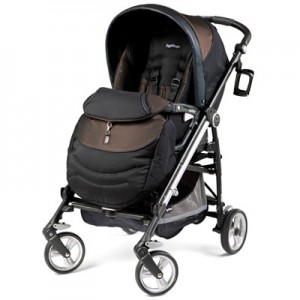 This highly versatile (for mum) and comfortable (for baby) stroller has an umbrella fold. It is long enough to be comfortable to push (93 cm) and small enough to fit easily into any car boot. Pliko Switch Easy Drive is free-standing, so you can look for your keys or bus tickets with one arm and hold your child with the other. It doesn't get more comfortable than that.
Pliko Switch Easy Drive comes in a Modular version which is suitable from birth to the age of three. With the Ganciomatic system you can attach the Navetta XL carrycot and the Primo Viaggio Tri-Fix Isip car seat onto the chassis.
Comfortable, compact, manoeuvrable and with loads of accessories: what else do you need in a stroller? You want it to be fashionable and trendy. Look at our colours – Zaffiro, Java, Iris, Geranium and Pois Brown – and choose the one you prefer. One thing's for sure – Pliko Switch Easy Drive will be one of your best and most dynamic allies for quite some time!