Dads from all over the world: are you ready to challenge other parents in one of the most difficult tasks? Take your baby for a stroll!
On your side is the Pliko Mini Ducati stroller - there is nothing more practical and agile, which is useful in critical situations such as going shopping, catching the bus or taking your baby to nursery school. You will even be able to make up for lost time thanks to its wheels with suspensions (highly performing even after years of use).
It may be small but it certainly is great. Here are 7 reasons to choose the Pliko Mini Ducati stroller.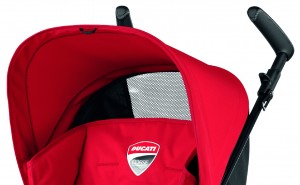 1 Branded Ducati, exclusively for Peg Perego! (Ducati lovers: there is no point in reading the next 4 reasons).
Let the details of its design conquer you – ergonomic handles with eco leather finish, adjustable in height so you can stand straight, with external seams and contrast stitching, for a firmer grip and more comfortable steering experience. The legrest is made of very resistant eco leather as well.
2 Incredibly compact. A stroller that measures just 50 cm in width, 101 cm in height and 84 cm in depth means you have much more freedom of movement, especially in town. It fits easily into the car trunk when folded – its width is just 34 cm, height 94 cm and depth 32 cm. The handle on the back means you can carry it like a trolley case.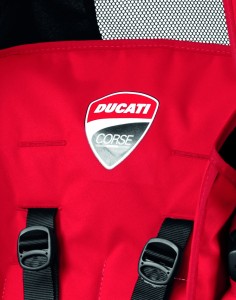 3 Extremely light. Pliko Mini likes to keep its figure and weighs only 5.7 kg, so you can effortlessly load it into the car trunk and fold it with one hand.
4 No-stress folding. Pliko Mini Ducati has an umbrella fold. Once folded it takes up very little room and you can leave it on the landing, at the nursery or at the swimming pool where it will not get in the way (and it will not get dirty because the fabric does not touch the ground – your partner will be amazed by how important hygiene is to you).
5 Forever. Pliko Mini Ducati is suitable from birth and you will use it until your baby grows into a toddler.
6 Comfort is part of the package. It would be great if there were a version for adults! Pliko Mini is comfortable because of its features – wide seat, backrest that reclines into three different positions (over 150°), legrest that can be adjusted into 2 positions and super carrier basket. It comes with a hood with window (to check on your child) and a toy hook to keep your little one busy when he or she is bored.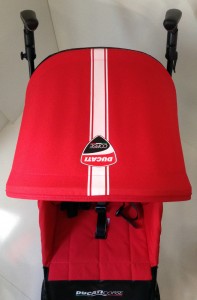 7 Made in Peg Perego safety. The Pliko Mini Ducati has a height-adjustable 5-point safety harness. The front wheels can be locked or swiveling, the back ones are locked with a centralized brake.
Pliko Mini Ducati is an example of the Made in Italy style and high quality famous all over the world. All Peg Perego Baby Products and Toys are made in Italy. All production phases – from design to manufacturing – are carried out exclusively by Peg Perego.
Be in pole position when it comes to fun!
Learn more about Peg Perego toys, created to make children all over the world enjoy themselves. Among the numerous partnerships with major international brands such as John Deere, Vespa and Polaris, you will find a line of electric toys dedicated to the world of Ducati. You can choose from the range of 12 volt Ducati GP, Ducati Hypercross and Ducati Hypermotard motorbikes for children aged 3 and over and the 6 volt Ducati Desmosedici and Mini Ducati motorbikes for younger riders. Have you already seen the super new Scrambler Ducati?