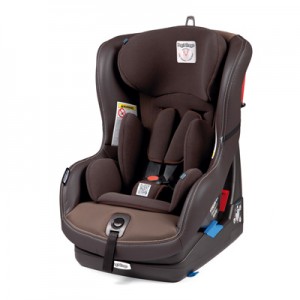 Here is one car seat to carry your child comfortably and safely from birth until the age of four - a perfect solution for the second family car or for grandparents to use.
Use it as a rear-facing car seat to carry children weighing less than 13 kg – it is a comfortable little nest for a newborn, with a booster cushion. Use it as a forward-facing seat to carry children weighing between 9 and 18 kg, so they can look at the world during the journey.
The seat has Adjustable Side Impact Protection. There are 7 positions for the adjustable safety harness and headrest, to ensure maximum safety at every stage of the child's growth. The seat can be reclined in five positions, so it can be relaxing to travel in and safe to nap in. The headrest and booster cushion are made of Fresco Jersey, a soft, transpiring fabric.
The safety harness has adjustable shoulder straps that can be positioned on the seat thanks to a blocking system, which makes positioning the child easier.
Discover how simple this versatile car seat is to use by looking at the video. We made it to show you the features of our Viaggio 0+1 Switchable – one car seat for your child, from birth to the age of four.