Here it is: Siesta, the leading model in our 2012 collection. This multifunctional high chair can be used from birth. Furthermore, when closed, it is extremely compact and free-standing. And of course, its quality and safety are those that have always distinguished products made ​in Peg Perego.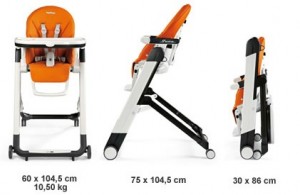 Siesta, thanks to its backrest, which can be reclined into five positions, and to its seat, adjustable in nine different positions, is approved for use from birth and can be used as a reclined cradle during baby's first few months.
Siesta can be move from room to room with ease and in maximum safety, thanks to the Stop & Go system, an innovative and practical way of keeping baby near you at all times. The child is restrained by a five-point harness and an anatomical crotch strap.
Moreover, a handy rubber net on the back is a practical place in which to stow baby's favorite toys.
To better organize baby's first meals, Siesta comes with a dishwasher-safe removable double tray. In this way, if you like to feed your baby at the grown -ups' table, you can, because Siesta sits up close to the table.
The faux leather lining is also easy to cleans, as well as being durable and comfortable to sit in. Bright, contemporary colors and functional, compact design make Siesta a veritable designer product, meeting the needs of even the most demanding mothers.
To find out more about "the Siesta effect" simply watch the video we shot at the Cologne Trade Fair, at the product launch. Isn't it amazing?