It is now taken for granted that there should be no differences in how we rear our sons and daughters. So says the modern science of education, and this is what parents feel too: all children must be given the same opportunities to enable them to express their full potential. And yet it's only right that we should respect the natural differences between boys and girls, giving in to their particular tastes and inclinations.
This is why Peg Perego has created electric motorcycles and cars with color schemes and graphics conceived especially for girls but with the same technical features as those for boys. For example, Quad Princess, a faithful reproduction of the real Polaris quad, is a four-wheeler suitable from the age of two up that can compete on a par with her brother's. And yet, the pink and purple design and the image of a fairy tale princess make it irresistible for girls!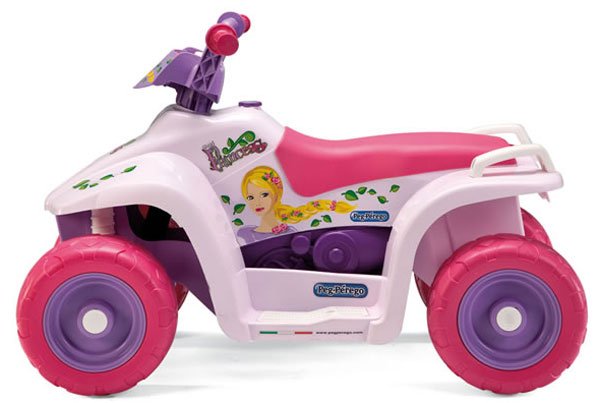 Quad Princess, with a 6-volt rechargeable battery, has a forward gear and a single pedal for both accelerating and braking. The bodywork is closed at the base for added safety, and the battery charger is included in the box.